Reviews & Articles
---
Creative Forces: Kitty Ko Sin Tung
John BATTEN
at 5:31pm on 12th August 2013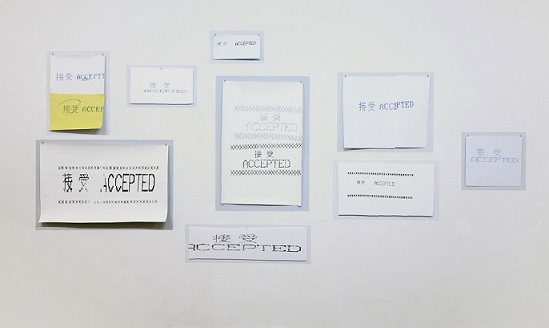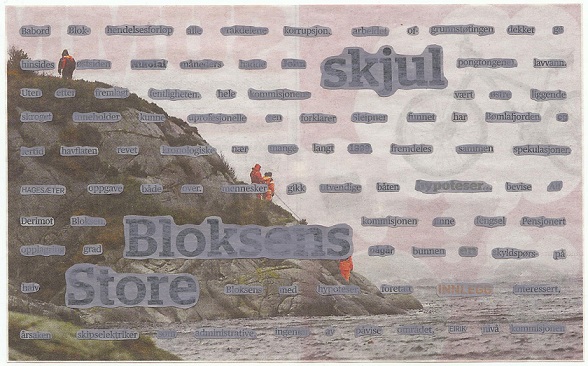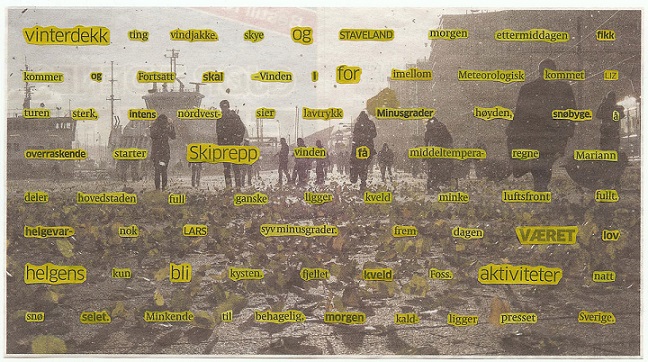 Captions:
1. Accepted, acrylic on paper, polystyrene foam, 2012.
2. & 3. Codes series, acrylic on paper, 19.7 x 12.3cm, 2012.
4. Home Improvement, acrylic, primer on tarpaulin, tracing paper, 110 x 66cm, 2012.
5. Things in order, ball-point pen, acrylic, paper, synthetic plaster on wood, 56.5cm x 44 cm, 2009.


(原文以英文發表,評論高倩彤的作品。)
Kitty Ko graduated in fine arts from the Chinese University of Hong Kong in 2009 and supports herself as a part-time art teacher for small children in a private tutorial school. She shares a studio in an industrial building in Fotan with two artist friends.
Similar to many young artists in Hong Kong of this generation: Ko's job offers flexibility and free time and she is encouraged by the artistic motivation of a community of artists based nearby in Fotan. This deliberately chosen lifestyle gives exposure to visual art challenges.
Fotan is the favoured place for artists to set-up studios in Hong Kong because of its central New Territories location and high-ceilinged industrial spaces. It may not be as artistically exotic as Paris in the 1920s, as influential as Beijing's East Village of the 1990s or comparable to today's cosmopolitan artist hangouts in New York's Brooklyn, but it offers the all-necessary "cultural insulation" of artistic mutual support. Artists' creativity is encouraged and challenged by having similarly ambitious and motivated practitioners nearby – somewhat similar to a sports team training together.
Ko has had two solo exhibitions since graduation and her work is often governed by the space in which she exhibits. Her art crosses different media, encompassing painting, drawing, installation and mixed-media construction. At her last exhibition at the short lived Hardneck art space in Wan Chai she set-up an elaborate video installation on flickering televisions, vaguely replicating advertising light-boxes seen in Hong Kong's luxury retail outlets. These shops leave their lighted signage on overnight with little consideration for the light pollution they create and the obvious lack of people on the street.
Her work is conceptual and non-narrative, but not intentionally obscure and often motivated by commonplace objects, daily situations and a fascination for the mundane. Ko's Accepted series of small acrylic paintings duplicates the common "ACCEPTED" receipt printouts handed back to customers at cashier counters. When seen as a set of paintings, they pose: what is "accepted"? A faraway computer system registering a sale - or, is it of us ourselves? These small amounts of data are possibly contributing to a larger, unknown, personal profile registry.
Simarly, Ko's Things in Order paintings carefully render objects in the home; conceivably they could be blueprints for a lifestyle-shop display or line drawings for a home catalogue. They are however depicting what our homes have become.
In late 2012, Ko had a short artist residency in the village of Ålvik, near Bergen in Norway. This village of less than a thousand people allowed Ko to experience slower attitudes to life. The physical landscape, amongst naturally beautiful fiords, and the short daylight hours tempered activity. Ko worked on small projects and her Codes collages made from local newspaper clippings observed the news from the angle of a small local community: big local news could be a group of school children going on a day outing. In Hong Kong's heightened commercial frenzy, this is no bad experience.

Works by Ko Sin Tung

A version of this essay was published in 48 Hours, South China Morning Post, 11 July 2013.