Reviews & Articles
---
ART HK 2012
John BATTEN
at 6:35pm on 11th June 2012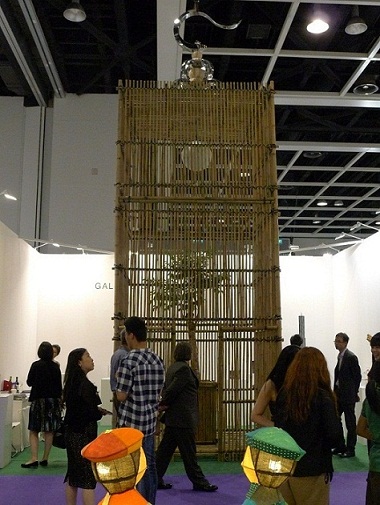 Captions:
1. Kara Tanaka, Bent-light Night, 2011. Cowhide, nails, walnut, aluminum, fiberglass, polystyrene, foam-coat and acrylic paint, Art HK 2012.
2. Navin Rawanchaikul - detail of one of his Tale of Two Cities paintings. The display included paintings, video and mixed media installation, Art HK 2012.
3. Kum Chi-keung, installation view of large birdcase, Art HK 2012.
4. Takahiro Iwasaki: Geo Eye (Victoria Peak), sculpture executed using packing tape, Art HK 2012.
5. Yayoi Kusama installation at Art HK 2012.

(原文以英文發表,評論《香港國際藝術展2012》。)

A Hong Kong artist described last week's ART HK as a "visual merry-go-round", and with a flourish at the musical-comedy end of the entertainment spectrum it is as successful as its own publicity people say it is. This year's art fair hosted 266 galleries from 38 countries, 67,000 visitors and, a downside of such globalised international events, a display of homogenous art that dominated over regional and local creativity.

International art fairs induce conformity, and Hong Kong's is no exception, this will be reinforced when the fair's future trading name will be known as Art Basel. The oddity of "Asia's world city" hosting an art fair bearing the name of a Swiss city (population: 190,000) cannot be overstated. It is the sort of confused identity that Hong Kong experienced as a "British Crown Colony" until 1997.

The British founders of ART HK announced last year that they had sold, at supposedly great profit, a majority shareholding to the MCH Group, owner of Art Basel, under whose name and management will absorb ART HK. The MCH Group describes itself as a "live marketing" company whose "urge to engage in encounters and authentic experiences with brands and products is continuing unabated. Exhibitions and events thus still have a central role to play in the digital age. They offer precisely what the "Facebook generation" is looking for, being genuine, specific, direct and interactive."

Luckily for a company promoting physical products there is still great interest in physical visual art, and the MCH Group organizes, besides Art Basel, 95 worldwide trade exhibitions and fairs including Auto Basel and Baselworld (for the watch industry), attended by over 2 million people. The majority owner (with about 40%) of the publicly listed MCH Group is the City of Basel (Canton Basel-Stadt) itself, and the city appoints five Directors to MCH Group's Board. The Art Basel 'brand', to be used for the first time in Hong Kong in 2013 to replace ART HK, is in part a worldwide branding exercise for the Swiss city, and joins the Art Basel edition in Miami, USA.

Hong Kong's art community, institutions and government have generously supported aspects of the current ART HK, most prominently through Home Affairs Bureau funding of the Asia Art Archive organised Backroom Conversations, a series of roundtable discussions, talks and presentations by leading art professionals. With Art Basel's spreading umbrella, the fair's future sponsors will undoubtedly consider their own branding concerns and, maybe, next year's sponsored events, including the Conversations, should emphasise a stronger Hong Kong profile.

Over the last five commercially successful years, ART HK has slowly weaned itself from the need to coincide its date with the seasonal auction house sales. Now attracting major galleries, international collectors, party-goers and art world players, Hong Kong's liberal tax and business environment has allowed the art fair to grow and independently become a magnet for visual art and commerce for five days every year. And Hong Kong galleries and art institutions (including the first dedicated exhibition by West Kowloon Culture District's Museum, M+) have astutely ridden on the coat tails of this art week to add necessary depth in presenting other visual art exhibitions around the city – however, the art fair's monetary success has rarely trickled down to Hong Kong's artists and non-participating galleries.

Art fairs are seldom places for intellectual enquiry and Hong Kong's only moment of such refinement was in the 2009 edition with Charles Mereweather's curated Crossing the Persian Gulf exhibition of six artists from Iran, Iraq and the UAE. Since then, the art fair has provided project space for galleries or sponsors to mount an individual artwork by one artist.

This year's showing was generally decorative with banal pieces from Yayoi Kusama, Daniel Buren and Choi Jeong Hwa, whose large kinetic red lotus flower was particularly annoying. Brazilian José Patrício and his delicate use of domino pieces covering the floor and Michael Joo's contrasting pair of painted pink and bronze horses were particularly strong. A favourite for fair visitors was Shen Shaomin's I sleep on top of myself, a frighteningly life-like series of life-size silicon sculptures of rats, chickens and pigs sleeping peacefully in the middle of the art fair as entranced visitors watched their mechanical heartbeats and breathing.

In previous years there was a spontaneous push by some galleries to present a particular 'name' artist at the fair – governed by trends and prevailing prices. These artists have included Julian Opie, Gerhard Richter, Candida Höfer, Anish Kapoor, Bill Viola, Damien Hirst and last year's William Kentridge – all were represented again this year, but not in volume and no single artist appeared to dominate the booths of blue-chip galleries. The emergence this year of documentary photography featuring the stellar Serbian performance artist Marina Abramović might see a future trend.

The fair offered its usual dizzy array of art and the best could often be found in smaller galleries and the fair's Art Futures section. Guo Hongwei's Painting is Collecting at Chambers Fine Art finely replicates the botanical and ornithological collections of museums by careful renditions in watercolour on paper. The random spontaneity of the washes during execution gives a conceptual literati edge. The fair had a paucity of photography, but Jiang Pengyi at Hong Kong's Blindspot Gallery; and the lush mountains and large-format tropical landscape photographs of Guy Tillim at South Africa's Stevenson were excellent. Tomoko Yoneda's Heat series of black and white photographs at ShugoArts were carefully crafted and placed in a booth that displayed an overall strong selection.

Thai artist Navin Rawanchaikul's A Tale of Two Cities paintings, video and installation was of museum-quality. This display was intended to be in the fair's project spaces on large bamboo scaffolding and comprising large banners, however the presentation was restricted by the fair's tight set-up schedule. The result is not much affected: the video of interviews with Chiang Mai and Hong Kong street hawkers and market vendors was a fascinating contrast of two cities. Likewise, the considered allusion of Tibetan mysticism in Kara Tanaka's Bent-light Night at New York's Simon Preston Gallery using scraped and dressed cowhides to form religious mandalas and long Tibetan horns (or Alphoms) was a beautifully considered installation that discreetly hovered between secular abstraction and conceptual installation to religious contemplation.

Hong Kong artist Kum Chi Keung's oversized bamboo birdcage at Galerie Ora-Ora was a wonderful absurdist sculpture that unfortunately lacked its intended physical presence by being hemmed within a tight booth. Christian Schmuck's Rear Window paintings on intentionally damaged aluminum panels at Weingrüll were beautifully painterly. Likewise, Takahiro Iwasaki Geo Eye (Victoria Peak) was a craftsman's birds-eye landscape view of a colonial Hong Kong simply carved out of grey-coloured packing tape.

Automaker BMW's overtly promotional stand in the middle of the fair summed up the week's commercial rationale. Displaying one of their cars painted by Andy Warhol, his words were prominently displayed: "I love that car. It has turned out better than the artwork."


A version of this review was published in the South China Morning Post, 27 May 2012.