Reviews & Articles
---
問題出於人權 | Human rights is the issue
John BATTEN
at 9:18pm on 21st June 2019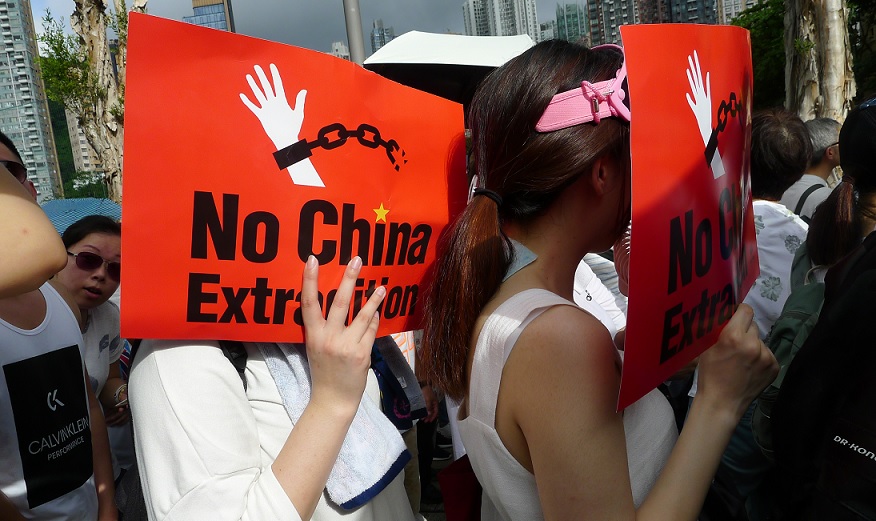 圖片說明 :
2019年6月9日反逃犯條例修例遊行立法示威者的標語。

Caption:
A protester's sign during the 9 June 2019 rally against the extradition legislation



(Please scroll down for English version)

簡單化的陳述:
當然,香港應該與台灣及內地有引渡安排。
基於知識的回應:
當然不可以。

我們應如何理解這兩句陳述與回應?

要瞭解當中的課題,簡而言之,需要先明白中國在滿清被推翻後的現代歷史:民國時期的動盪、至1949年前,因為戰爭條約而出現中國控制以外的港口殖民歷史;日本侵華,日本其後被國共兩黨及同盟國合力擊敗;中國內戰,共產黨獲勝,國民黨於1949年退守台灣;台灣軍法統治多年,民主逐步演進;香港的殖民歷史及與內地大相逕庭的資本主義及放任政策發展;香港不斷演變的(粵語)身份,同時擁護法治、司法獨立、對貪腐零容忍和言論自由的核心價值;內地的一黨專政和完全不同的管治方式、法治和言論自由……

我在1990年代初來到香港,到埗不久便聽過演員曾志偉父親曾啟榮的故事。他的故事要追溯到香港的黑暗時代,當時警察貪腐成風,殖民政府容忍政府玩忽職守,英國對香港的管治形同虛設。曾啟榮在1940至1972年間任職警界,期間逐步晉升至總警長,上司貪污的四大華探長之一。曾氏當年負責督導巡邏警員,這些警員的日常工作中,會遇上小販、小生意和公眾,也很容易向這些都市小人物收取保護費。曾氏後來被判貪污罪成,被判監3年。在等候上訴期間,他由香港飛往台灣潛逃。廉政公署於1977年向曾氏發出通緝令,曾氏最終從未再次回港、從未服刑,於2011年離世。

台灣一直是內地眼中的「動亂省份」,而香港官員自1997年後也這樣看台灣,當地可說處於法律困局。台灣政府和政府的所有工具均被視為不合法,情況自1949年以來一直如此。

我是國際藝評人協會香港分會的成員,協會全球設有61個分會,會員人數4,600人,是聯合國教科文組織旗下之國際性非政府機構。國際藝評人協會香港分會反對引渡法例的建議修正,因為內地的人權與司法獨立現時並未符合國際標準。

國際藝評人協會香港分會的其中一個宗旨,是「維護藝術評論者公開表達和思想自由,反對壓制言論自由之行動」。國際藝評人協會的香港與台灣分會,目前是該協會兩個位處大中華地區的分會,因為至目前為止,中華人民共和國並未符合國際藝評人協會的人權與言論自由條件。這是不幸而尷尬的現實:內地未有資格成為國際藝評人協會的會員。

這是令人驚訝的。香港擁有法治、言論自由和集會自由,也有司法獨立。相反,內地與國民黨內戰後已有70多年,現時內地卻不具以上任何一點。


原文刊於《明報周刊》,2019年6月22日



Human rights is the issue

by John Batten


Simplistic statement:
Of course, Hong Kong should have extradition arrangements with Taiwan and the mainland.
Knowledgeable reply:
Of course, it can't.

Where do you start to make sense of this statement and reply?

Briefly. Getting to grips with some of the issues requires an appreciation of China's modern history after the fall of the Qing dynasty; the chaos of the Republican era; the history of colonial treaty ports that were outside Chinese control until 1949; the Japanese invasion of China and then Japan's defeat by a combined Kuomintang, communist and WWII allied forces; China's civil war ending in a communist victory and retreat of the KMT to Taiwan in 1949; Taiwan's years of martial law and evolving democracy; Hong Kong's colonial history and diverging capitalist and laissez-faire development from the mainland; Hong Kong's evolving (Cantonese) identity that also embraced the core values of the rule of law, judicial independence, intolerance of corruption and freedom of expression; the mainland's one-party state and its completely different approach to governance, the rule of law and freedom of expression….

Sometime after I first arrived in Hong Kong in the early 1990s, I heard the story of actor Eric Tsang Chi-wai's father, Tsang Kai-wing. The story harks back to Hong Kong's murky past of police corruption and official colonial tolerance of government malpractice that allowed British governance of Hong Kong to tick over. Tsang Kai-wing rose through police ranks between 1940 to 1972 to become a sergeant-major and he worked under one of the corrupt sergeants that supervised the beat policemen who in their daily work crossed paths with hawkers, small businesses and the public: easy and vulnerable sources to collect protection money. While awaiting an appeal on a 3-year sentence for corruption, Tsang fled Hong Kong to Taiwan. The ICAC issued a warrant for his arrest in 1977. Tsang never returned to Hong Kong, never served his sentence, and died in 2011.

Seen by the mainland, and since 1997 by Hong Kong officials, as a "rogue province", Taiwan sits in legal limbo. Its government and all its instruments of government are seen to be illegitimate. It has been like this since 1949.

I am a member of the International Association of Art Critics-Hong Kong (AICAHK), whose 61 sections around the world and its 4,600 members are under the patronage of UNESCO. AICAHK opposes the proposed amendments to the extradition legislation because human rights and judicial independence on the mainland do not currently fulfil international standards.

One of the main objectives of AICAHK is "to defend freedom of expression and thought and oppose arbitrary censorship." AICA-Hong Kong and AICA-Taiwan are currently the only AICA sections located in greater-China as, currently, the People''s Republic of China does not fulfil AICA''s human rights and freedom of expression criteria. It is an unfortunate and embarrassing reality: the mainland is ineligible to be a member of AICA.

This is extraordinary. Hong Kong has the rule of law, freedom of expression and assembly and an independent judiciary. The mainland, seventy years after the end of the civil war with the Kuomintang, doesn't.


Originally published in Ming Pao Weekly, 22 June 2019. Translated from the original English by Aulina Chan.