Reviews & Articles
---
Eating Chaos
John BATTEN
at 6:11pm on 23rd January 2017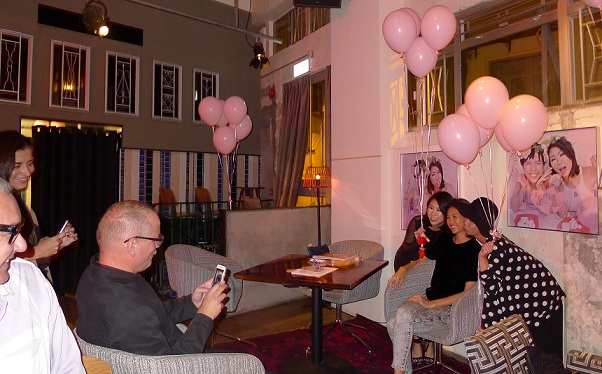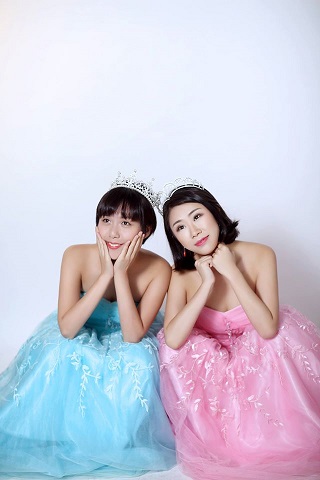 Captions:

1. Installation view of Come Inside''s
Eat Me
exhibition at Ping Pong, January-February 2017
2. Wong Ka Ying and Mak Ying Tung as Come Inside, C-type photograph, 2017
(原文以英文發表,評論西營盤乒乓冰室舉辦之〈COME INSIDE〉展,是次展覽共展出麥影彤和黃嘉瀛二十多件全新摄影、錄像及繪畫作品。)
1.
First: Put on Percy Faith & His Orchestra's
Theme from 'A Summer Place'
(1959) – preferably the record, but digital, I suppose, will do. Then, relax.
Eat Me
demands the soothing sounds of a string orchestra to relax to.
2.
Pink. Wear pink. I am. I need the colour credibility to fluff my way through these words. It covers my blue.
3.
Samuel Beckett's
Not I
is a short play for a solo actor in a completely darkened theatre, except for a spotlight directed on the actor's mouth. That will focus your thoughts; on the mouth, although a wandering mind will assist the enjoyment of Mak Ying Tung & Wong Ka Ying's exhibition.
"MOUTH: ….out…into this world…this world…tiny little thing…before its time…in a godfor-…what?...girl?...yes…tiny little girl…into this…out into this…before her time…godforsaken hole called…called…no matter.……"


Watch the video:
www.youtube.com/watch?v=1DmqbQas460
Beckett's play is of dark inner thoughts. However, is anything by Beckett so easily explained?
4.
Now for something lighter, flippant, tongue in mouth, tongue in cheek.
Artists Mak Ying Tung & Wong Ka Ying have another persona, Come Inside, a collective of two young women. Not dark, not Beckett, they are bright and dress up, and play; play with words, balls, gambling chips, food, they add tinsel, sprinkle glitter, wear heart-shaped sun glasses, could be mistaken for a two-girl-chick-band, girls in drag, girls in love, innocents about to step out, a Pierre et Gilles girl-spoof, fodder for fantasies, gurl-love, gurls-in-love. Or, just two badasses.
5.
Before Come Inside there was a long line of fun and dressing up; camp and cabaret: Carmen Miranda and Lindsay Kemp and a strutting Mae West and Marlene Dietrich and her 'sewing circle' and Klaus Nomi and Opera queens and divas and then Grace Jones and Divine. They all played it up. They smooched and posed and now Come Inside and their
Eat Me
is all cuddles, too.
6.
There has long been something 'happening' – for millennia. In recent times, we know of India's hijras. Or, the sexual fluidity of Berlin's pre-war cabarets or Bangkok's Thermae or King's Cross-then-Darlinghurst Road in Sydney or Bugis Street in Singapore or Golden Gai in Tokyo or Tanamur Diskotik in Jakarta and even, at the End of the World, Carmen's International Coffee Lounge Café, 86 Vivian Street, Wellington, New Zealand – hosted by the irrepressible transvestite Carmen Rupe.
Lou Reed had a huge hit celebrating diversity and living on another edge:
"Holly came from Miami F.l.a.
Hitch-hiked her way across the U.S.A.
Plucked her eyebrows on the way
Shaved her legs and then he was a she
She said, hey babe, take a walk on the wild side,
Said, hey honey, take a walk on the wild side…."

('Walk on the Wild Side,'
Transformer
, 1972)
For some it was the first they had heard of any-other-kind; of a "third sex."
7.
GLBTI / bi-curious / pansexual / gender fluid / trans- / he, she, they, s/he etc etc
8.
Eat Me
is good time music:
"…Well I was dancing in the lesbian barWay downtownI was there to check the sceneAnd hang aroundWell, the first bar things were stop and stareBut in this bar things were laissez-faire!...In the first bar things were so controlledIn this bar things were way, way bold."
(Jonathan Richmond, 'I Was Dancing in the Lesbian Bar',
I, Jonathan
, 1992)
9.
The flamboyant Marie Antoinette supposedly said, "Let them eat cake!", a quotation that cannot be repeated without recalling excess and greed. Recently, Kate Tempest updated the scene:
"…Washed off the work and the stressAnd now all we want's some excessBetter yet; a night to remember that we'll soon forgetAll the blood that was bled for these cities to grow……So these games could be played…No trace of love in the hunt for the bigger buckHere in the land where nobody gives a fuck."
(Kate Tempest, 'Europe is Lost',
Let Them Eat Chaos
, 2016)
10.
Meanwhile, back in the bar, the aptly named Ping Pong, the dancing continues to:
"…the coloured girls go doo-doo-doo-doo-doo…."
And Come Inside whisper "eat me."
Links for further info:

Lou Reed
Jonathan Richmond
Kate Tempest
Come Inside''s Facebook page