Reviews & Articles
---
Art Fair Philippines 2014
John BATTEN
at 0:00am on 18th March 2014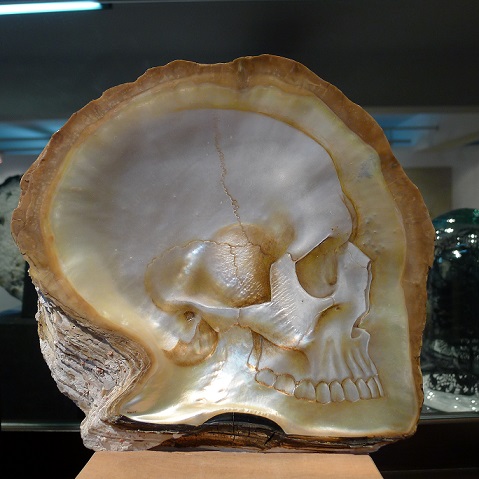 Captions:
1. Louie Cordero, detail of Pong on Earth.
2. Mo Space, installation view of I, Object.

3. M.M. Yu, small photo-book from Mo Space I, Object installation. Photo by John Batten.

4. Geraldine Javier, detail of installation view of Chapel of Many Saints and Sinners, 2014. Photo by John Batten.

5. Gregory Halili, Untitled, oil on mother of pearl, 2014 at Silverlens Gallery. Photo by John Batten.



(原文以英文發表,評論「菲律賓藝術博覽會2014」。)

There was a hint of scandal on the eve of the second edition of Art Fair Philippines held in late February. Art dealer Michael Jannsen's shipment of art by Ai Weiwei – including milk formula powder cans to be installed in the shape of China and previously exhibited in Hong Kong – was being held without explanation by customs in Manila. The exhibition and its opening at the respected Ayala Museum had been delayed, and it appeared that a re-scheduled opening reception was about to be cancelled.

The delay was attributed to Philippines' fickle customs department, but amidst the current fractious diplomatic relations between China and The Philippines, speculation for the delay due to political undertones was possible. Then suddenly, again without explanation, the shipment was released hours prior to the art fair's gala opening.

It was no surprise that Jenssen, with galleries in Berlin and at Singapore's newly opened Gilman Barracks, was promoting Ai Weiwei, arguably the art world's most controversial and recognisable artist, in Manila.

Despite not being on Hong Kong's art radar, Manila has long had excellent links with Europe and the USA through its colonial connections. Together with a well-educated Philippine Diaspora and Manila's large middle-class and a wealthy philanthropic sector that support a variety of private museums, the city is a lucrative art market. Recognising this, Christie's, whose contemporary South-east Asian art auctions have a longer history than auctions of contemporary mainland art, were prominent within the fair hosting a series of art talks.

Despite the enthusiasm that Hong Kong's media extols on the city as an important art market, it has predominantly been auction houses and Art Basel's Hong Kong edition that is the focus of collectors. The primary market - sales in art galleries - continues to struggle. In contrast, Manila is riding a wave of enthusiasm for its domestic art market. Many young Philippine artists promoted by galleries are able to make a decent living from sales and older artists are being rediscovered by younger collectors and have become sought after – including Jaime de Guzman, who prominently featured in the fair.

Hong Kong's great advantage as a destination for overseas-sourced art is its free-port status, liberal taxation and financial reporting environment. Many places in Asia, including the major art markets of China and Japan, have stringent customs regulations on art. Likewise, The Philippines' opaque import and customs regulations will limit Art Fair Philippines' future growth.

The art fair attracted a 40% increase in audience from last year to 10,000 attendees who visited 29 exhibitors, including two overseas galleries, and seven featured installations – including Kawayan de Guia's massive Bomba installation - spread around Manila's business district of Makati. The fair was also a lynchpin for a week of other gallery and museum exhibitions.

Using a central carpark as a venue, the fair was immaculately housed and used artists' mixed-media installations as a focus around which galleries were spread over two floors. Louie Cordero's large spray-painted and irregularly shaped table tennis tables were an 'interactive' art piece, opened for play by the Philippine Table Tennis team and with a constant stream of players throughout the tournament – sorry, I mean, art fair. Airbrushed with layers of jeepney (The Philippines' ubiquitous bus/jeep) inspired design, text and patterning, these tables were cultural icons mimicking the bounce of the art market and its players.

Mo Space reprieved a display from last year – entitled I, Object - of small art objects by well-known contemporary artists. Displayed within the rationale of Lena Cobangbang's accompanying essay of "ten statements on the subject of objects and as a speculative extrapolation on the title". Each piece was "…something more valuable than it really was by its mere transposition, from form to language, from material to symbol, from toilet to the gallery, from the supermarket to the art fair…."

It was a fine display of art as object and commodity. Amongst Mo Space's eclectic - and secular - display was M.M. Yu's redesigned Variable Series Collection of photographs of different series on the same subject, objects found around Manila, manufactured into smaller amulet-like photo-books that could be hung from a car rearview mirror or mobile phone.

In contrast, Geraldine Javier's Chapel of Many Saints and Sinners was an overt "commentary on organized religion", presented by Singapore-based Equator Art Projects. This large display of grouped angels, saints and Satan, all produced in the woodcarving centre of Paete, were then elaborately embroidered and clothed by Javier herself. She speculated, "the obsession with angels can be ascribed…to this desire for unseen company and an unseen guide. Perhaps that's why we need religious figures, we want to feel their presence in a more tangible way."

The Philippine Art Fair is riding a wave of interest in art sweeping through South-east Asia. Hong Kong should embrace this renaissance: their enthusiasm could be infectious.

Art Fair Philippines was held in Manila, 20-23 February 2014.



A version of this review was published in the South China Morning Post on 9 March 2014.