Reviews & Articles
---
The Sculptural Dimension - Contemporary Hong Kong Sculpture
John BATTEN
at 7:36pm on 8th September 2011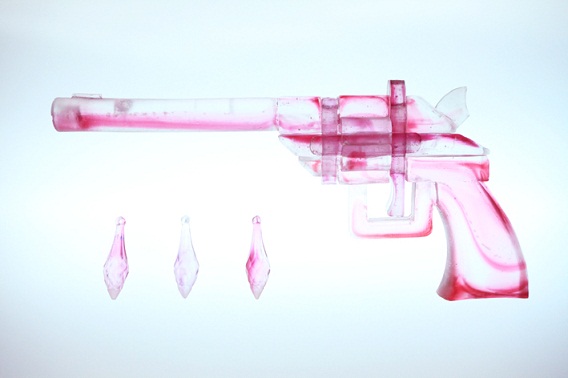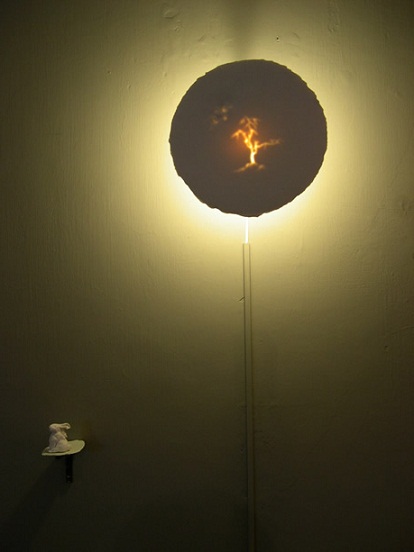 Captions:

1. Kacey Wong, Exhale. Glass and acrylic light box, 46 x 38 x 11cm, 2011.

2. Kevin Fung, Realm of Freedom. Painted wood, 48 x 20 x 5cm, 2011.

3. Fiona Wong The Moon. Porcelain and light, Plate: 29cm diameter, rabbit: 6cm height, 2011.

4. Kum Chi-keung, Labor ( 作動 )(edition 1/5), Bamboo and metal hook, 40 x 40 x 80cm , 2011.



Photo courtesy of the Grotto Fine Art.

(原文以英文發表,評論《The Sculptural Dimension - Contemporary Hong Kong Sculpture 》展覽。)


Seen by thousands every day in the plaza between Wan Chai's Immigration and Revenue Towers is Norman Ko Wah Man's bronze sculpture Flight. Despite its prominent position, it is, almost intentionally, a forgettable and forgotten work of art. Its solid geometrical representation of an aircraft displays the criteria for most government selected public art commissions: physical safety and content that should not offend any member of the public.

Sculptural Dimension - Contemporary HK Sculpture, Grotto Fine Art's 10th anniversary exhibition with a loose freedom and democracy theme features seven successful mid-career artists whose sculptural work deserves to be seen in a wider range of public spaces. All of these artists admirably demonstrate that sculpture does not need to be bland and safe, but sculpture holding a range of emotions – whimsy, nostalgia, fear and anger - usually avoided in government-sponsored public spaces, can be both aesthetically enjoyable and happily confronting to an audience.

Kevin Fung's studio situated in industrial Kwai Fong is a working wood sculptor's space littered with sculpting tools, saws, benches, and in far corners, stored timber –chiefly, his preferred teak - awaiting future projects. Previously a telecommunications engineer and self-acknowledged techno "nerd", Fung recently decided to become a full-time artist, using the appropriate justification of those starting afresh: "If I don't do it now, I will never do it."

Fung was attracted by the tactile qualities and hands-on freedom of sculpture that provided a balance to his technical daytime job hunched over a computer. He enrolled in a part-time certificate course in contemporary sculpture led by the late Tong King-sum, whose influence can be seen in his early abstract pieces.

Later, evolving a more personal and representational style, Fung's work often reflects the concerns of Hong Kong's middle-class. "Despite great material success, at the end of the day people must still shop and carry their own shopping home. In my Baggage series I depict the loads of life." Using this simple premise, his depiction of people carrying bags and other objects, including a cloud surrounding a head, reflects a fantastical rather than melancholic rendering of life in one of the world's busiest cities.

Likewise, Realm of Freedom, seen in this exhibition, simply depicts a boat in water; its underside painted blue – the sculpture's only painted element. However, his use of sea-coloured blue is juxtaposed against the undulating wood-brown grain of the water; by using this visual opposite a touch of levity is introduced offering a positive note about Hong Kong's stunted democracy aspirations.

Kacey Wong has built an impressive body of sculptural and installation artwork over the last ten years. Known for his Drift City performance series and mobile homes for the homeless, his recent work has increasingly delved into political, spiritual and social concerns covering such issues as unemployment, housing, poverty, child abuse and, with Ai Weiwei's recent detention on the mainland, freedom and democracy.

"Mao Zedong said that "political power grows out of the barrel of a gun", but if you need to be violent, then it never goes away." Wong says while pulling apart Exhale, a cast glass rendition of a revolver placed alongside six tear-like stylised bullets. "This gun is in the form of a puzzle - war is a puzzle. The gun's red colour is purposely cloudy, reminiscent of blood bubbling as it runs from a gunshot wound. Later, comes the in-and-out gasping of breath exhaling. It's too easy being violent - that is the puzzle."

Henry Au-yeung, Director of Grotto Fine Art, says the exhibition draws concern from Nobel Peace Prize recipient Liu Xiao-bo's continuing imprisonment on the mainland and that he purposely chose sculpture to explore the issue. "Sculpture allows more freedom of expression. It is harder to stylise and there is a greater range of forms to explore the topic." Gallery artists, Rosanna Li with her ubiquitous obese stoneware women, and Danny Lee's stainless steel waterfall pieces each complement the exhibition with new work alongside Ho Siu-kee's Orbiter No 3, a significant sculpture about aeronautical travel and outer space and a departure from the artist's usual referencing of his own body.

Labor by Kum Ch-keung is an ingeniously modelled birdcage in the shape of a pregnant woman; inside this protective but vulnerable space are figures in rapid flux. Kum Chi-keung's own path to becoming a respected full-time artist started slowly and conventionally: part-time hours studying traditional Chinese painting while working full-time.

But his years of rote copying of paintings abruptly changed when Kum first visited the Hong Kong Arts Centre in 1989 and realised that art and the media used could be incredibly diverse. "In the early 1990s, some friends and I rented a cheap house on Lamma Island and on weekends we went there to paint. A few years later I started using birdcages in my installation work."

Kum has since only used birdcages, feathers, nests and stylised birds in all his installation work. "I purposely chose the birdcage and its related parts as it embodies the elements that I wish to explore in my installations: the sky, ocean and land." Since 1995, Kum's use of the humble birdcage has led to countless permutations in form and installation arrangement – and, some so complex, such as Big Bird, that Kum's careful computer designs require skilled workmen on the mainland experienced in working and shaping bamboo.

Fiona Wong is a busy ceramics lecturer at The Art School and teacher at The Pottery Workshop where her careful concern for the long history of ceramics in its many forms and from around the world is influencing a new generation of ceramic artists. Her own work equally straddles the functional form of containers alongside more elaborate sculpture. Each range of work embodies the same objectives: the striving for beauty and the tactile use of the body to build a ceramic object.

In The Moon, Wong has shaped a thin layer of porcelain to create a hazy, translucent depiction of a tree under moonlight; and, the resulting chiaroscuro gives an intriguing impression of clouds moving across the sky.

The moon's proximity to Earth has always made it an object of enquiry and for daydreamers around the world, a real place for imagination – it is, up there and out of reach, a place of virtual freedom.


Exhibition: The Sculptural Dimension - Contemporary Hong Kong Sculpture
Date: 13.7.2011 – 27.8.2011
Venue: Grotto Fine Art
http://www.grottofineart.com/WEB%20ARCHIVE/2011%20Sculptural%20Dimension/SD01.htm


A version of this review was published in the South China Morning Post on 31 July 2011.