Reviews & Articles
---
Student Creative Activism and Money Don't Mix
John BATTEN
at 5:01pm on 13th October 2012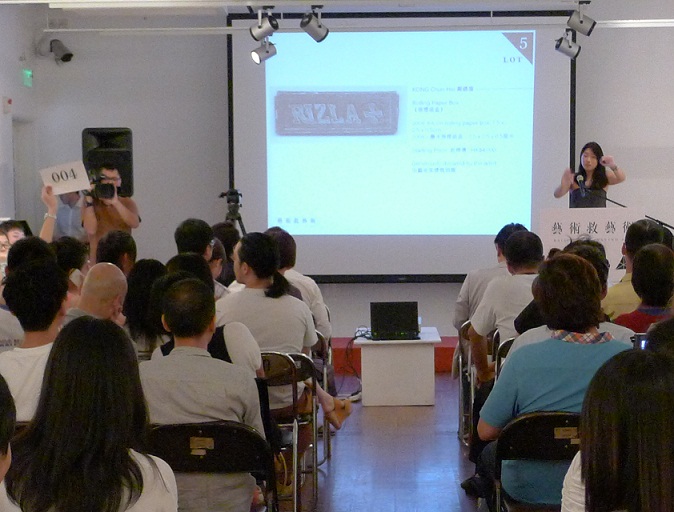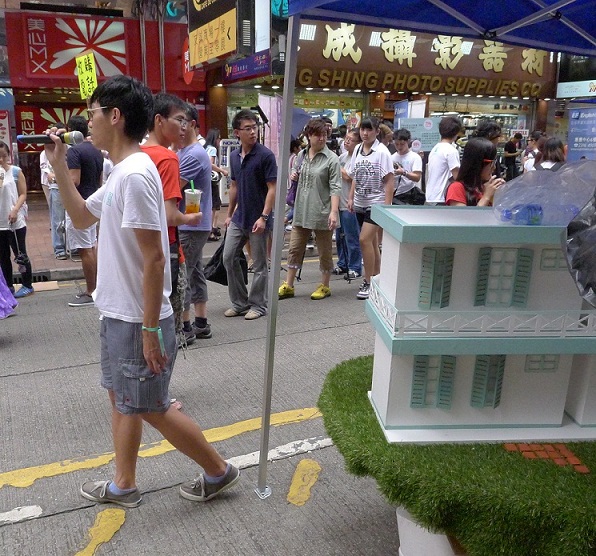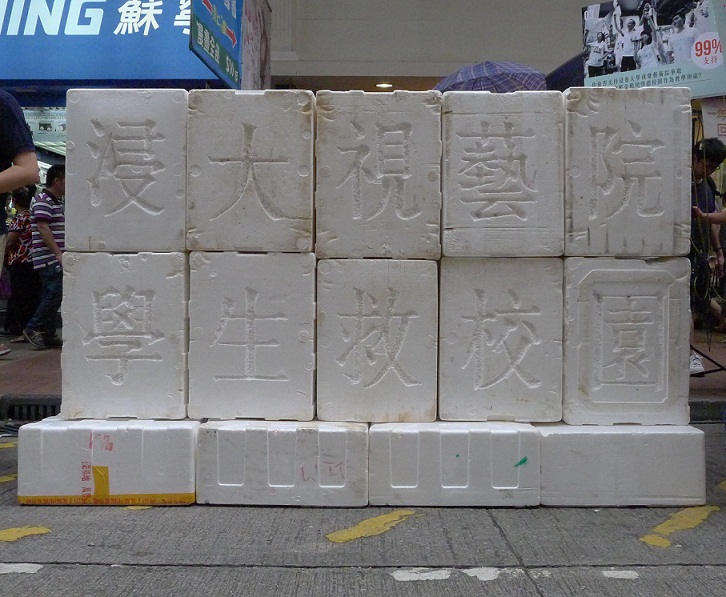 Captions:

1. Bidders at AVA fund-raising auction, September 2012.

2. Model of AVA Kai Tak building made by students and shown during protest action in Mong Kok, August 2012.

3. Creative use of polystyrene boxes to protest, Mong Kok, August 2012.
All photographs: John Batten


(中文翻譯請往下看 Please scroll down to read the Chinese translation.)

The fine arts students of Baptist University's Academy of Visual Arts (AVA) object to and have been demonstrating against their removal from their current campus, the dormitory buildings of the former British air force headquarters near the old Kai Tak Airport. This publicly owned heritage property managed by the Government Property Agency (GPA) was a temporary home for the AVA while the university constructed a new building at its main Kowloon Tong campus. Now complete, students and many faculty staff considers the new building unsuitable as it lacks adequate rooms and studio facilities. An increase in rent (from HK$50,000 to HK$300,000 per month) imposed by the GPA reinforced the determination of Baptist University administrators to move the AVA from Kai Tak into the new building.
This situation also saw students appeal directly to the government. They also began organising an art auction to raise funds to "pay" the increased rent on the Kai Tak campus. However, a few days before the auction in mid-August, the government announced that the AVA would be allowed to remain for another year in its Kai Tak campus, paying its original rent. The intention of the auction was to symbolically pay the increased rent; but with a government reprieve, the students then announced the raised funds would be used for the "future development of the AVA."
The fundraiser was well organized, carefully replicating a professional auction: a catalogue was published, bidders were registered and then given a numbered bidding paddle, the students acted as ushers and bid spotters, refreshments were provided. The audience had come to seriously bid on a selection of Hong Kong art market favourites and well-known artists who had each donated their work. In a breezy one hour auction, the majority of the HK$700,000 raised was achieved in this auction-house style bidding session.
Pragmatic and financially successful, this clinical event efficiently married seller with buyer; it was a real auction down to the smallest detail. But it was also unsettling. The hype of the art market is tiring – with its excessive focus on art sales, high prices, 'successful' artists, exhibition openings and auctions glamourised as more than just art-selling events.
Creativity, the focus of art schools, is rarely a consideration in the hype of the art market. Students must appreciate this. In the end, the fight to remain at their Kai Tak campus will depend on their creative activism, not money.
* For further details see for example: http://artisticactivism.org/
This article was originally published in Perspective architectural magazine, October 2012.

Chinese translation courtesy of Perspective.

誇飾終結時
自浸會大學視覺藝術院(AVA)作出要撤出現時的啟德校園(即舊啟德機場附近的前皇家空軍基地軍官俱樂部)的決定,事件一直受到AVA的藝術系學生的強烈抗議。這座政府擁有的歷史建築物歸政府產業署管理,當年浸會大學於九龍塘本部校園興建新校舍時,被獲批作為AVA的臨時校園。現在新校舍落成,學生與AVA許多的教職員都認為新大樓課室與工作室設施不足,不適合教學。另一邊廂,啟德校園的租金由每月五萬飆升至每月30萬港元,促使浸會大學管理層更下定決心要把AVA搬到新校舍。
學生直接向政府表達訴求,同時亦舉辦藝術拍賣活動籌款來「支付」租金升幅。不過,拍賣活動在八月中舉行,但在此之前政府突然扭轉態度,同意讓AVA多留在啟德校園一年,而且維持舊租金。拍賣活動完結後,學生隨即宣布拍賣籌得的款項將作「AVA未來發展」之用。
拍賣活動籌備周詳,慎密地複製出專業拍賣會的場景:印好的拍賣目錄即場派發,每位投標者登記後都獲分發編有號碼的投標板,學生擔當接待與監督競投的角色,現場亦提供飲料。在場人士競投的都是香港藝術市場裡最受歡迎、最有名藝術家捐出的作品,結果共籌得近70萬港元。
就實際結果與籌得款項來說,這個公式化的活動獲得空前成功,有效地促成買賣雙方的交易 — 這是場纖悉無遺的真實拍賣。但是,這亦令人很不安。藝術市場的誇飾推銷已過了火,太著重藝術品銷售、售價高開、「成功」藝術家、展覽開幕會,以及包裝成比藝術銷售活動更清高的拍賣會。
創意是藝術學校的核心焦點,卻幾乎從不是藝術市場營銷的考慮。這個分別是學生需要學懂欣賞的。說到底,最終留在啟德校園的抗爭是取決於他們的創意行動主義,而非金錢。
如欲認識更多可瀏覽:http://artisticactivism.org/