Reviews & Articles
---
Stephen Wong Chun Hei's Plein Air Paintings
John BATTEN
at 11:08am on 16th November 2012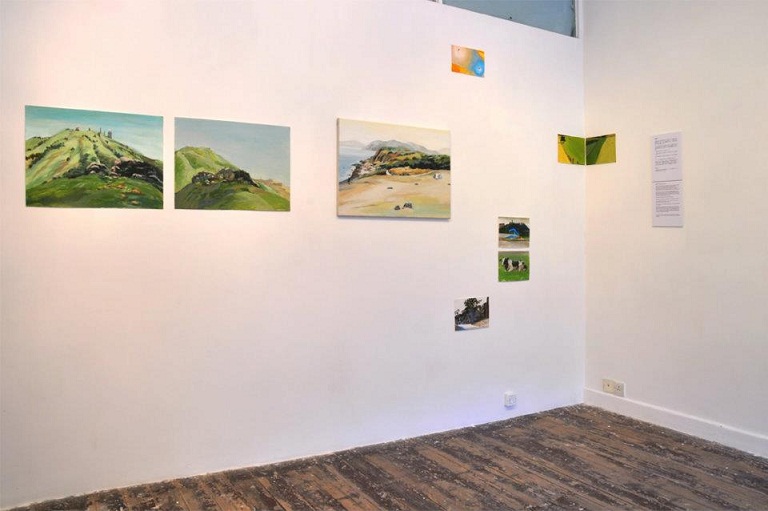 Captions:
1. & 2. Landscape painting, Stephen Wong Chun Hei.
3. & 4. Latest landscapes completed in 2012.
5. View of Stephen Wong's early landscapes as shown in 'Traits exhibition at Ox Warehouse, Macau, June 2012.
(原文以英文發表,題為《黃進曦的風景寫生畫作》。)
Earlier this year I curated an exhibition in Macau that included the young Stephen Wong Chun Hei's small, sketched landscape paintings. I selected this particular group of work as the artist was obviously in the midst of a deliberate reassessment of his approach to making art and experimentation of different painting styles. Exhibited were these bridging explorations straddling two other distinct series of work.
Shortly after graduating in fine arts from The Chinese University of Hong Kong, Wong devoted himself to a series of paintings of personal interest: motor-racing video games. Viewers of these paintings indeed saw the speedway road ahead, but the point of the painting was a deliberately chosen windscreen-framed countryside scene, as Wong "likes to walk around a video to find beautiful landscapes." These landscapes appear as a backdrop in the video game's changing scenes, and Wong captures a scene to paint an alternative depiction of landscaped nature.
Because of the almost-geeky, 'piston-head' subject matter, and the depiction of car instrument panels and dials on the edge of the painting, the artist was restricted to a realistic presentation of a scene. The artist's 'voice' or any visual psychology was difficult to include. Wong consequently set about to tackle landscape painting in other ways.
The art of en plein air (on site outdoor) painting has had a long history, including such luminaries as John Constable's intimate cloud studies and Claude Monet's garden and pond paintings at Giverny. Likewise, Wong "likes quiet and calm spaces and working alone," and has recently painted outdoors in Hong Kong, Britain and Macau. These sketch-like, freely painted works on paper were completed in situ or later in his studio using photographs as a reference.
Wong exhibited a small group of finished paintings at Galerie Ora-Ora based on these sketches. These were painstakingly careful paintings using a pointillist technique and a palette of subdued hues resulting in a dreamy, unreal quality of landscape. The results were finely accomplished paintings, but a good artist is rarely satisfied and these were judged to lack spontaneity, a necessary component when recreating the look of a plein air landscape.
So, for inspiration he returned to his simple plein air paper sketches to compose larger paintings. "People say I am objective, not emotional – you can see this in my work." And the work is unadorned; simple planes of colour replicating open space interspersed with trees and water – using his favourite Prussian Blue. The Swiss artist Ferdinand Hodler whose landscape paintings depict the purity of nature has influenced Wong's own aesthetic compositions.
Wong's latest landscape paintings (see images) have taken a slight deviation. His plein air sketches remain a pivot, but the finished studio paintings have an expanded panorama to include people, buildings and glimpses of an urban environment. And by employing the mysteries of light, shadow, space and a carefully placed figure, a narrative-in-landscape is offered for viewers to carefully admire the view.

A version of this review was published in the South China Morning Post, 28 October 2012.