Reviews & Articles
---
Review: Kwan Kam Cheong; Michael Wolf; Ho Fan; Almond Chu
John BATTEN
at 4:13pm on 14th August 2013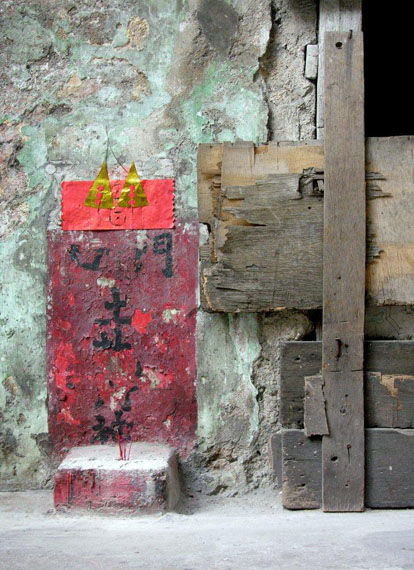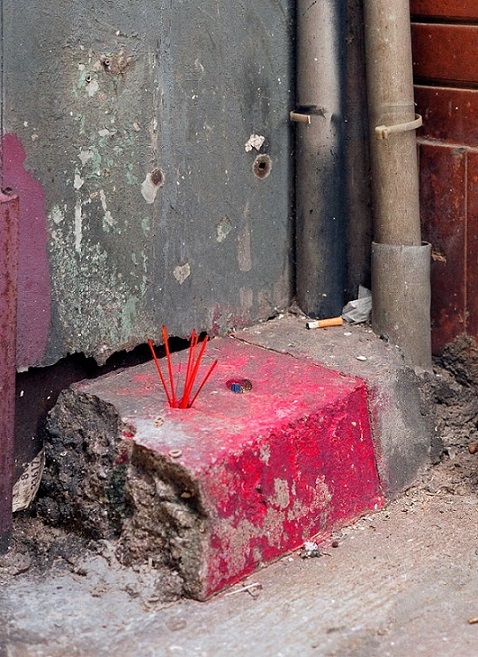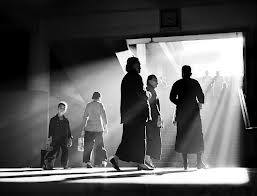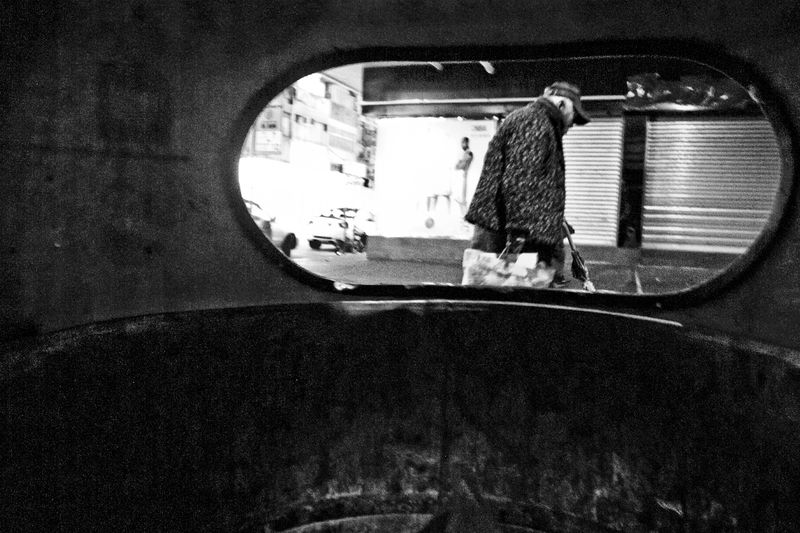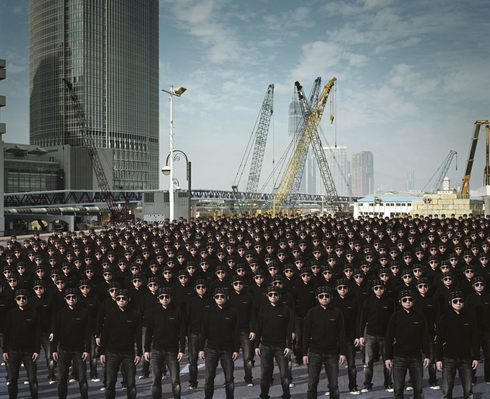 Captions:
1. & 2. Michael Wolf, Earth Gods series, 2012.
3. Ho Fan: Afternoon Chat, 1959.
4. Kwan Kam Cheong, Untitled from Homebound series, 2013.
5. Almond Chu, Parade series, 2005.

Photos courtesy of AO Vertical Art Space.
(原文以英文發表,評論《尋常‧香港》攝影展覽。)
All About Hong Kong is ostensibly a group exhibition running through summer's quieter months. Featuring ten photographers, the exhibition however significantly introduces the debut work of KC Kwan and Michael Wolf's latest photographs of his continuing investigation of Hong Kong's streetscape.
KC Kwan, a 36-year old printing factory worker, only began photography three years ago. Initially, he followed the 'how to' tips given in an introduction to photography book, but found the images of his resulting flower studies – understandably - boring. After discovering more stimulating styles, Kwan found the gritty expressionism of Japanese photography appealing, particularly the work of Daido Moriyama.
Launched during this exhibition and sponsored by the gallery, Kwan's debut photobook Homebound with its full-bleed grainy high contrast black and white photographs feels like Moriyama. Kwan explores late night Mong Kok, Kwun Tong and Sham Shui Po and depicts their rubbished back alleys, crouching cats, staring dogs, street-side prostitutes and sinewy night labourers. Kwan's photographs are a brave update of the city's sometime urban trauma and builds on the previous work of Alfred Ko (also in this exhibition), Ducky Tse Chi-tak, Lei Jih-sheng and John Fung's photographs from the 1970s.
In contrast, the balanced form and quiet gentility of Ho Fan's photographs is too close to the entry requirements of the salon competitions for which many of his photographs were submitted. Beautifully executed, Ho's vision however is almost too tailored for a 1950s equivalent of an 'Our Home' government campaign.
Michael Wolf's latest book Small God, Big City documents the Earth God shrines found at the entrances to homes and businesses. These delicate small-scale built spaces and their humble offerings to another world and deities are suitably photographed in a no-nonsense way. Wolf's images depict the purity, form and purpose of these shrines while allowing the context of the street's surrounding flotsam to highlight their Hong Kong personality.
Almond Chu's 'Parade' series of photographs reflects on Hong Kong people's perceived propensity to 'follow the leader' and being unable to express a strong opinion. Possibly sometimes true in personal situations, the fact is less accurate in public displays of disenchantment. Hong Kong has one of the world's highest rates of public street demonstrations and a cherished freedom of expression that is fully exercised by residents. Chu's photographs depict multiple repeated images of the photographer himself in different parade marching formations. If anything, these images reflect the conformist demands of a controlling state on individuals, rather than a widespread Hong Kong trait.
The exhibition also offers different depictions of Hong Kong's high-rise buildings and skyline. Romain Jacquet-Lagrèze photographs directly skywards, into the gap between buildings. A pleasing geometric, kaleidoscopic view is the result. Alternatively, Andreas MüllerPohle places his camera into Victoria Harbour and the partly submerged views of Hong Kong's skyline offer a meniscus view of Hong Kong's watery surroundings.

Exhibition:
All About Hong Kong

A version of this review was published in the South China Morning Post, 6 August 2013.