Reviews & Articles
---
Rental United - As You Like It photographs & installation
John BATTEN
at 11:51am on 6th February 2013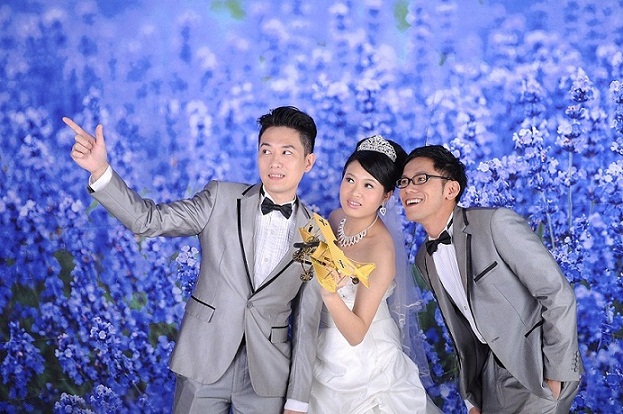 Captions:

1.Rental United, As You Like It series, 8.9cm x5.9cm, photography, 2013.

2.Installation view of Rental United's As You Like It. Rental United studio, Fotanian Open Studios, 6 January 2013.

3.Installation view of As You Like It. Rental United studio, Fotanian Open Studios, 6 January 2013.



(原文以英文發表,題為《夾租團 - 皆大歡喜攝影及裝置展》。)

Many studios at this year's Fotanian artist open studios just open the door and display whatever is on the walls. Other studios try. Some studios, including Rental United, try harder to engage visitors, many new to looking at the 'arty' end of art.
Rental United is the shared studio of artists Stephanie Sin, Damon Tong and Timothy Zau. Each are painters recently graduated from RMIT/Hong Kong Art School and often work as a group presenting art performances. Over the last three years at Fotanian, Rental United has organised two long duration performances and this year presented a series of carefully composed photographs. In the middle of their studio they built a pile of possessions and accumulated earlier artwork, meticulously stacked to form a solid rectangular block two metres in height. Its shape created a narrow corridor along which the photographs hung around the walls.
Printed not much bigger than passport-size, the photographs on close inspection show the three artists, a bride and two grooms, dressed in a range of sumptuous wedding attire. These photographs are the results of Rental United buying a Shenzhen commercial wedding photography package for RMB3,200. Visiting different locations, they strictly followed the instructions of the photographer who directed the trio's changing poses to elicit their wedding album memories.
The entire installation takes its title from William Shakespeare's comedy As You Like It, and the inclusion of two grooms adds an element of absurdity. The artists, through curator Rachel Ip, further explain that this presentation of a commercial photographer's garish work shows that "everything can be named art and when everyone can self proclaim as artists, where is professionalism? How much is true? How much is fake? Just like the happy lovers in the photos, perhaps what we see is only an illusion."
Contrived messages and illusion abound in marketing driven, branded Hong Kong and Rental United's satirical photographs cut quickly. However, their main target of jest is towards a complicit art world that honours success without much assessment of an artist's truer qualities. Damien Hirst's recent fall as art world darling and media discussion of his latest work being "bad" was a long-time coming, tellingly this coincided with his departure from the international art dealership, Gagosian Gallery.
The strength of these photographs is Rental United's bravado and confidence to successfully present performance and stagey showmanship as visual art in a public setting. The artist's As You Like It photographs are an extension of similar recent ritualized performances. Performance C, a cleaning routine done around Central's streets, and June's Pool a slow undressing performance in Macau, both explored the issue of freedom of expression – highly topical, as artist Ai Weiwei and other activists call for more openness and removal of censorship on the mainland.
Rental United's staged events join well-covered ground – including American Cindy Sherman's influential role-played photographic series. But this is refreshing, as Hong Kong has few artists doing such performance and cross-media artwork.
A version of this review appeared in the South China Morning Post on 3 February 2013.