Reviews & Articles
---
Painting On and On: Taciturn
John BATTEN
at 5:53pm on 18th November 2013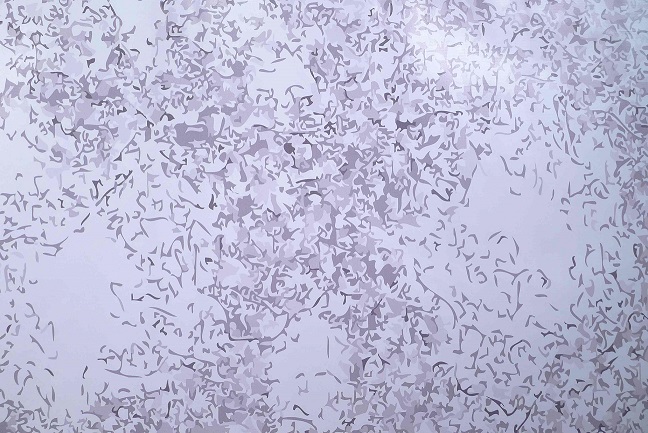 Captions:

1. Au Hoi-lam, A Draft of My Home, oil, acrylic, on wooden board and frame, 2002, triptych, 30.5 x 91.5 x 8cm.
2. Frank Vigneron, Le Songe Creux: Translation, print, 2013.
3. Room view with paintings by Lui Chun Kwong.
4. Kitty Ko Sin Tung, As white as you can 1 (one of two panels), acrylic on archival inkjet print, plasters, 2013, dimensions variable.
5. Wai Pong Yu, Heart Sutra, ball pen on paper, 2008, 60.8 x 81.3 cm.
(原文以英文發表,評論《繪畫大道中(五) 緘默有時》展。)
Taciturn is the last edition of Painting On and On, a series of five exhibitions held in 2013 initiated and organized by a group of thirty Hong Kong artists to explore the art of painting. Au Hoi-lam, the convenor of Taciturn, eloquently explains that the artists' rationale "seems to reek of nostalgia, and it is true that in the 1970s and 80s, it was popular for artists to be their own curators." She argues that the Painting On and On exhibitions demonstrate that artists can be "pro-active" rather than only allowing art events to be "planned and organised by curators and art promoters."
Taciturn exhibits the work of eight artists, whose differently individual approaches makes this exhibition an excellent overview of abstraction in Hong Kong today. The cross-generational mixture of artists has a tinge of both mentorship (from Gaylord Chan, Lui Chun Kwong and Frank Vigneron) and equal collegiality, indicating fruitful get-togethers and studio visits while planning the show.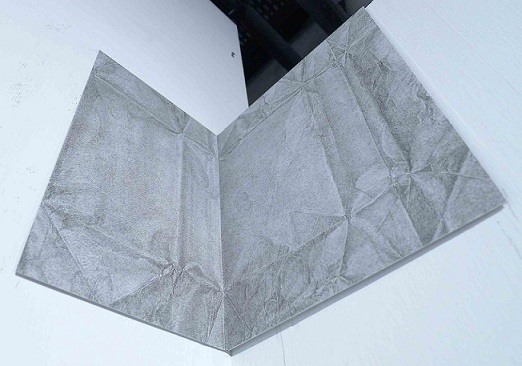 Kong Chun Hei, Stuff III, ink on paper mounted on stainless steel, 2013, 16.9 x 28.2 x 22.2cm.
Au Hoi-lam is one of Hong Kong's most sensitive painters and her melodic, intelligent work in this exhibition subtly uses the base materials of canvas or board in their raw form or on which to build-up a work of careful brush-strokes and indentations. Frank Vigneron's calligraphic-like technical pen drawings reminiscent of topographical maps are exercises in precision and of endless permutation. However, he displays a new technological variation – a "translation" of a small drawn work, 'morphed' in a computer and then blown up onto a large vinyl banner. The result is a camouflage-like design of broken lines.
Kitty Ko Sin Tung skillfully combines an out-of-focus photograph of a building exterior with lines of acrylic paint that follow the same image distortions. Using similar media, her accompanying work of architectural detailing complements the fine drawings of Kong Chun Hei. Kong's drawings generally replicate the form of real objects; this series uses a crumpled paper appearance to directly respond to the venue's interior and are deliberately placed in high corners and near the floor (see above, Stuff III).
Currently exhibiting at Grotto Fine Art, Wai Pong Yu's Heart Sutra is an early example of his engaging and rambling abstract drawings. Lee Kit, Hong Kong's representative at this year's Venice Biennale that closes this week, has included some quickly executed work. This fine exhibition of delicate abstract forms makes us, as Au Hoi-lam advises, to "stop questioning, be taciturn sometimes, be talkative some other times."

Exhibition:
Painting On and On 5. Taciturn @ Lee Shau Kee Creative School
A version of this review will be published in the South China Morning Post, 26 November 2013.