Reviews & Articles
---
Hong Kong Eye at Saatchi Gallery
John BATTEN
at 4:18pm on 6th February 2013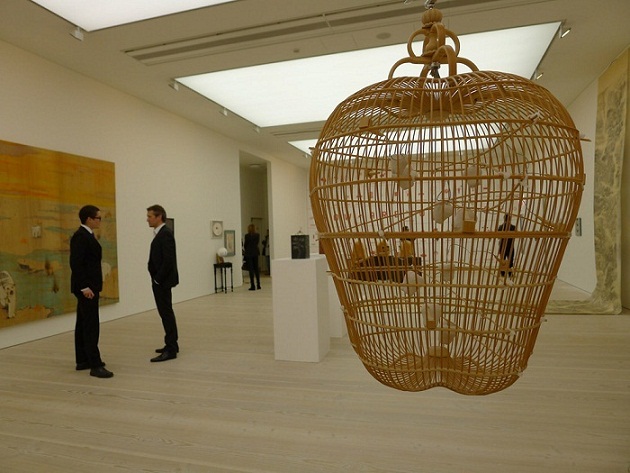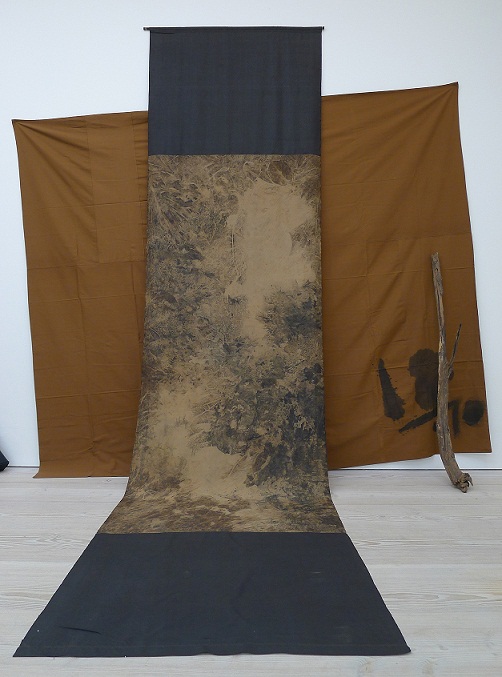 Captions:

1. Exhibition installation view, foreground: Kum Chi Keung, Wisdom, bamboo, clay, paper & brass hook, 15cm x 15cm x 35cm, 2011.

2. Leung Kui-ting, Multi-vision No 2, ink on silk and wood installation, 160cm x 220cm, 2005.

3. Jaoa Vasco Paiva: Counterpoints (foreground), stainless steel, custom machinery and electronics, 2011 and Map; Exit 4 & 5; Station - acrylic and offset printing on canvas, 2011. Courtesy of Saamlung.

4. Fiona Wong Lai Ching, Bohdi, black clay, 122cm x 76cm x 10cm, 2007. Courtesy of Nelson Leong.

5. Installation view: Annie Wan Lai Kuen, The Rainbow, food and beverage products, 2006.

All photographs: John Batten



(原文以英文發表,評論Saatchi Gallery《Hong Kong Eye》展。)

Saatchi Gallery in London recently presented Hong Kong Eye, an exhibition showcasing 18 of the city's leading artists. The show is only one permutation of possibilities: the selection is from a larger group of 66 Hong Kong-based artists listed in the hefty book of the same title edited by exhibition co-organisers Johnson Chang Tsong-Zung and Serenella Ciclitra.
A further selection of artists and artwork will be shown in a modified exhibition in Hong Kong to coincide with the upcoming Art Basel art fair in May.
"Hong Kong Eye" is the latest project by Parallel Contemporary Art – a foundation set up by Ciclitra and her husband David – which has previously mounted two similar presentations of art from countries with "emerging art markets".
The Korean Eye and Indonesian Eye exhibitions each initially featured small one-month shows at Saatchi Gallery, similar to the present Hong Kong exhibition, to "test the waters" prior to organising larger exhibitions. A future bigger edition of Hong Kong Eye at the Saatchi Gallery will depend, according to Saatchi's Gallery's Chief Executive Nigel Hurst, "to their audience reaction."
Hurst himself has selected the artists and artwork shown for the London display of Hong Kong Eye, which ended early in January 2013. The result was a curious mélange featuring a group of strongly talented artists whose individual styles are not complemented by any strong curatorial intention.
Hurst gives prominence to the contemporary art-world's more "international" style, embodied in João Vasco Paiva's minimalist paintings and stainless-steel sculpture replicating Hong Kong's MTR station turnstiles and Justin Wong Chiu-tat's social-media-inspired vinyl signage installation. "Contemporary" is contrasted against "traditional" in the exhibition with Leung Kui-ting's large and impressive Chinese modern ink paintings.
There is an intention to straddle a version of "East" and "West", possibly catering for an audience familiar with, arguably true in part, stereotypes of Hong Kong. However, apart from their geographical proximity and strong individual vision, the selected artists have few links between each other. The artists are also hampered by the limited selection of their exhibited artwork in the two small allocated exhibition spaces at Saatchi Gallery's prominent Chelsea venue, the historic former Duke of York's 18th century army headquarters.
How does a London audience view this display of Hong Kong artists' work? What is unique about Hong Kong art? What are the artistic links, say, between the animatronix sculptural displays of Adrian Wong Ho-yin and the delicate porcelain shoes of Fiona Wong Lai-ching? Or Amy Cheung Wan-man's bulky life-size army tank and Hector Rodriguez's subtle computer-generated images? Each of these works has been placed alongside each other; so, what are the connections?
Unfortunately, there is scant explanation and little synergy between the artwork. The exhibition's confusing display could have been vastly improved with more sensitive art placement and provision of explanatory gallery text. The Saatchi Gallery's own catalogue for the exhibition has no overview essay and understanding individual artwork relies on the catalogue's brief statements provided by the artists themselves.
David Ciclitra's explained this away: "Like it or not, Saatchi Gallery brings people in." And this is true. Nearly 190,000 people saw the initial six-week Indonesian Eye exhibition and over 500,000 people saw its later larger edition. Hurst estimated that 120,000 people would see Hong Kong Eye during its six-week exhibition run and said, "this is not an exhaustive exhibition, but an introduction – it encapsulates the Hong Kong art scene."
Veteran artist Lui Chun-kwong exhibited his latest vertically lined abstract paintings in this "supermarket" of an exhibition, but readily acknowledges that the chance to exhibit in London is an excellent opportunity. Seen recently at Osage Gallery, Lui's new work has small rectangular cloths overlapping the top of his paintings.
"I don't want my paintings to be perfect, and the cloth makes the work a bit disturbing," the artist explained. Lui's years of working on variations of lined abstract paintings now shows a conscious, albeit slow, departure.
As a teacher for 20 years at Chinese University's fine arts department and recently retired, Lui taught many of the younger artists featured in Hong Kong Eye. However, Lui inclusion in the exhibition makes him incongrouosly Hong Kong's oldest "emerging artist" as he grapples to find a new artistic voice.
His own rigorous attention to detail and concern for an artwork to be carefully finished can also be seen in the work of his former students, Fiona Wong, Otto Li Tin-lun, Ho Sin-tung and Kong Chun-hei.
In contrast, Amy Cheung's replica wooden Toy Tank, sits like an elephant in a crockery shop, uneasily. Its large size unfairly dominates the entire exhibition, overwhelming both the show's balance and introducing an element of violence that is the least likely descriptive noun anyone would ascribe to Hong Kong. Nevertheless, viewers can crawl inside the tank, pull a lever and symbolically destroy the exhibition's artwork seen as a gallery landscape on video monitors. The resulting digital gunfire and flames are gratuitous art fantasy.
Fiona Wong's ceramic sculpture Bodhi and Kum Chi-keung's bamboo-worked bird-cages embody Hong Kong's interest in artistic craft and literati traditions while Silas Fong's videos and Otto Li's recent computer-aided design that "deconstructs everyday images with digital tools and reconstructs them into a sculptural form" demonstrates the city's strong interest in new media.
To its credit, the Hong Kong Eyebook acknowledges another view of Hong Kong's art history and current art scene. The exhibition's "academic advisers" each contribute an essay.
Former Hong Kong Museum of Art chief curator Christina Chu outlines Hong Kong's art continuum from the discovery of Neolithic archaeological ceramics and the ink painting traditions of the Lingnan School and the New Ink painting movement of the 1950s and 1960s. Para/Site Art Space founding member, Leung Po-shan discusses the art of woodblock artist Karden Chan, abstractionist Hon Chi-fun, and forthcoming Venice Biennial representative Lee Kit. Critic and founding member of Woofer Ten, Jaspar Lau Kin-wah discusses artists' recent involvement in social issues, the British colonial legacy, the Handover and his disappointment with directions at the West Kowloon Cultural District. And, Chinese University teacher and artist Chan Yuk-keung discusses how artists, including Cheung Yee and Luis Chan, "misread" western art to develop their own art practice.
The inclusion of these essays is confusing as the exhibition tackles none of the issues raised and many of the discussed artists, seminal in their own right, including Luke Ching Chin-wai, Wong Yan-kwai, Hon Chi-fun and Cheung Yee, are not featured in the book and, therefore, excluded from the exhibition.
However, this is not only a failure of Hong Kong Eye, but reflects a truth that Hong Kong's own art officialdom and museums continue to be unable or unwilling to offer the city a permanent display of Hong Kong's "art story" as a reference and measure for other exhibitions to complement or challenge.
I suspect that Hong Kong Eye will come and go because of its flimsy, confusing curatorial expression. But the air, of which it is a part, beckons for the mounting of strong intellectually rigorous survey exhibitions about all aspects of the Hong Kong art story. There is a challenge there and curators, Hong Kong artists and the arts establishment should look at Hong Kong Eye and do it better.


Exhibition: Hong Kong Eye 2012

Date: 5.12.2012 – 12.1.2013
Venue: The Saatchi Gallery, London

Date: 1.5.2013 – 31.5.2013
Venue: ArtisTree, Hong Kong


A version of this essay was published in the South China Morning Post, 27 January 2013.