藝評
---
李傑 | Lee Kit
約翰百德 (John BATTEN)
at 6:01pm on 27th December 2018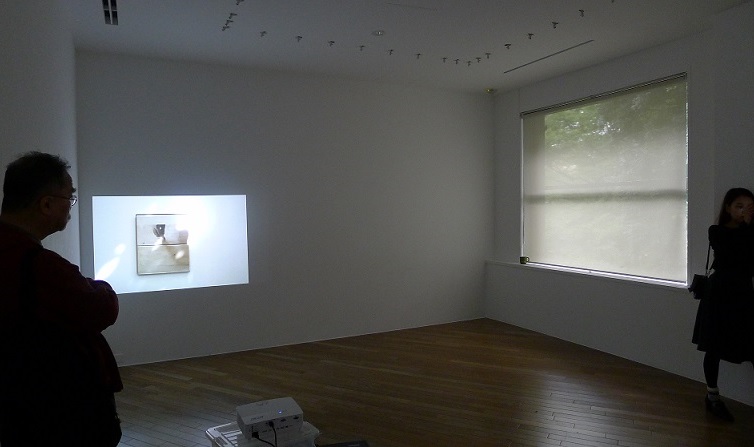 Installation view of Lee Kit's exhibition at Hara Museum of Contemporary Art, Tokyo, Japan
All photos: John Batten




(Please scroll down for English version)

李傑的展覽只有一件裝置,佔據整個原美術館。美術館改建自30年代現代主義前住宅大樓,兩旁由日式花園包圍,後面還有一個大草地。展館的固定現代雕塑系列部分作品於戶外展出,館內還陳列固定裝置作品。欣賞其中的建築、建築細節是必須的,尤其窗戶,還有其他藝術,藝術館的不同角落,包括商店和咖啡廳,才稱得上真正欣賞李傑的展覽。李傑沒有忽略或排斥美術館的建築和原有藝術,反而積極融合展館,富策略而微妙地將其畫作、錄像和裝置放置館內。李傑整個裝置可以靜靜地觀看,觀眾也可邊快走邊觀看,最好有戴上耳機,調高音樂聲量,經過藝術館的自然光、倒影和反射,李傑的作品都把這些分開一層層,出去然後進來。李傑大概會贊同這種觀賞方式,他的作品歡迎任何解讀,亦經常運用音樂,受音樂而啟發。




李傑特地改建藝術館兩處內部建築。大部份觀眾看不出,但這舉動顯示藝術家決意正確地安裝裝置作品。下層的轉變最大,加建一堵牆,覆蓋兩條柱子,兩個房間中間的開口很低,觀眾經過要低頭。李傑這樣做的原因因為這兩條柱子令他印象非常深刻,他不知如何運用。畫廊還有配樓,有弧度的窗戶非常漂亮,當這裡還是住宅的時候就有了,透過窗戶可看見花園。窗台的中間放著棕色床邊收音機鬧鐘,款式在80年代很受歡迎,看似不經意,其實放置位置準確。靠近鬧鐘可見兩個風景:一是看花園,二是看畫廊。觀眾可以觀賞花園,還可以看見遙遠牆壁上的錄像投射,牆上有一雙女人的腿,她的腳互相轉動揉搓。加於錄像的文字(「心底深處你永不放棄。心底深處你對此永不放棄。」)可與影像連接,或完全分開。李傑承認這種看法,說:「我在想,這可能過火了,因為這些文字太多情緒。然後我想,情緒像這個錄像的框架,防止觀眾過份解讀。我不希望觀眾看錄像,覺得這是令人放鬆的。對,可以是,但我表達的不是放鬆,所以我加這兩句說明。但這些句子重複過於明顯,所以我加多兩句。有時我加入歌詞和短語,作為作品的框架。」

美術館地面上全是他用的投影器,放在塑料儲物箱上或旁邊,一些是障礙物,一些是為美感而存在。錄像影像投射於牆上,白光有時穿射這些箱子。例如,腳錄像的某個角度,地上間歇傳來投射燈光於牆上,通過低開口到達另一個房間。觀眾全身都微微亮起。處於燈光之中,觀眾和影子刻意為內部建築和藝術家的裝置增添層面。這個影子效果還出現在其他地方,為整個展覽分層。李傑說:「分層其實不太明顯,因為當觀眾移動,所有結構都會改變,這是我無法控制的。」觀眾來來去去,他們被投射,整個展覽刻意地充滿活力,觀眾被聚焦,影子被投射。






李傑複製美術館的窗戶,製成錄像投射於白牆上,大都於真窗旁邊,窗簾都拉上了。複製窗戶旁邊神秘的寫道:「一切都支離,但不破碎。很美啊。」

現場還有魔術,公開表演讓觀眾去發現。一幅畫作有一隻手的食指指向下方,模仿另一房間內的錄像。如果觀眾看久了,一個人形會出現,走向畫作,調整它的位置。在別處,樓上窗台有一個綠色咖啡杯印有「歡樂滿滿」的字樣。旁邊的錄像也寫有「但我的手不夠長,拿不到杯子。」杯子在美術館的紀念品中心可以買到。李傑其中一件原型彩繪布鑲於牆上,一個身穿大紅色T恤的小孩不斷投射於布料上,下面的文字是「你好」。最後,蓋於真窗戶上的真窗簾是由薄紗的布料製成,這些薄紗也遭投射,使一些畫作和牆壁陰影重重,如薄紗似。

展覽融合文字、畫作、燈光、影子、建築和一窺戶外花園。觀眾無意識地參與,一開始很重要的歡迎,小孩的「你好」,為展覽營造友好好客的情調。觀眾感到好奇,有時覺得迷人,亦被展覽裝置神秘的層面和衍生的意義深深吸引。這是個美好的回憶。

李傑, 東京原美術館,2018年9月16日至12月24日
www.haramuseum.or.jp



Lee Kit

by John Batten


Lee Kit's exhibition occupies, as a single installation, the entire Hara Museum of Contemporary Art – an adapted modernist 1930s former residential building surrounded on two sides by a Japanese garden and an open lawn at the rear. Selections from the museum's permanent contemporary sculpture collection are placed outside, as are permanent installations within the museum. It is necessary to appreciate the architecture, the architectural detailing - particularly windows - the other art and parts of the museum, including the shop and café, to fully appreciate Lee's exhibition. Rather than ignoring or competing with the museum's architecture and its installed art, Lee actively embraces the museum, and both strategically and subtly places his own paintings, videos and installations within it. Lee's entire installation beckons to be quietly looked at, but it also works if viewers quickly pace through the galleries, ideally accompanied by their own (loud) ear-plugged music, passing through the museum's natural light, shadows and reflections layered by Lee's added contributions, then going outside and back in again. Lee would probably approve as his work is open to all sorts of interpretation and, anyway, he often uses and is inspired by music.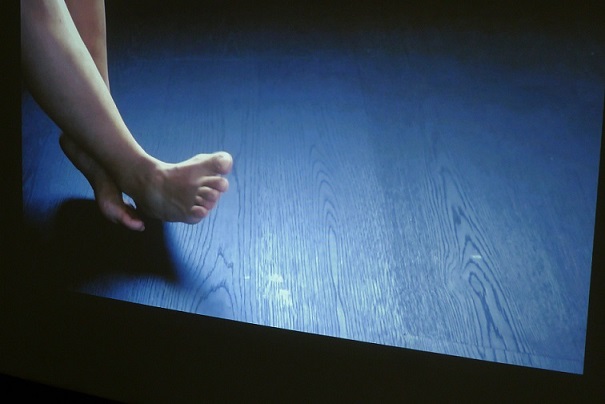 Lee Kit has made two intentional alterations to the museum's internal architecture. These changes will be invisible to most viewers. However, knowing of the alterations shows the artist's commitment in getting his installation correct. The major change is on the ground floor. Two pillars are covered by adding a wall to create two separate rooms with a low opening in it, people must slightly duck to go between the two rooms. Lee says he did this because the two pillars "were very impressive for me. Which meant I don't know how to use them." (It also shows his sense of humour!). In this gallery there is also an 'annex' with a wonderfully curved window (original, from when the building was residential) looking out onto, or into, the garden. Placed on the window-sill, half-way along, is a nonchalantly, but ever-so-precisely-placed brown bed-side radio alarm-clock, of a style popular in the 1980s. Standing near the clock gives dual views: into the garden and into the gallery. The eye catches both the garden and on a far wall a video projects images of a woman's legs; her feet twist, writhe and rub together. The added text to the video ("Deep inside you never let go. Deep inside you never let this go") is suggestive, or, could be entirely disconnected from the images. Acknowledging this, Lee says that, "I was thinking, maybe this is too much because it provides too much emotions to the video. But then I thought, no, emotion is like a frame to the video, to prevent people from over-interpreting it. I don't want people to look at the video and think "oh, this is so relaxing." Yes, it probably is, but I am not talking about being relaxed. So, I added these two sentences. But these sentences repeat too obviously, so I added two more. So, sometimes I add lyrics or phrases which function like frames."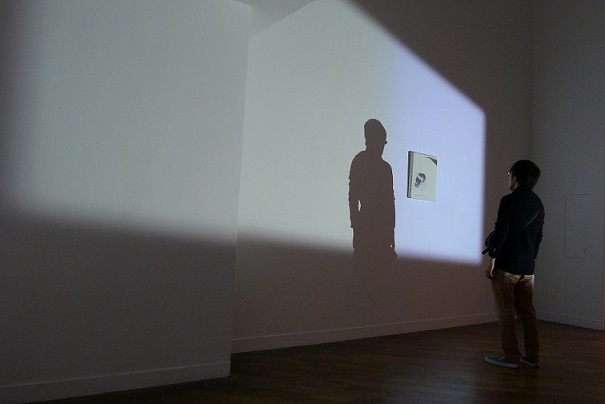 Placed on the museum's floors are all the projectors he uses, which are themselves sitting on top of or beside plastic storage boxes, each placed, as obstacles not to be tripped over or as just aesthetic forms. Video images beamed onto walls and pure white light, at times, shining through these boxes. For example, at a right-angle to the 'feet' video, is an intermittently projected light coming from the floor onto the wall and across and through the low opening into the next room. As they walk past or pass into the room, the audience is briefly fully lit. Caught in this strong light, the audience and their shadows intentionally add layers that complement the interior architecture and Lee's own installation. This shadowing effect is repeated in other sections of the museum and "layers" the entire exhibition, Lee emphasizes that, "…the layer is somehow also invisible because when people start to move, all compositions will change. This is something I cannot control." The audience comes and goes randomly throughout the museum; they are projected, making the entire exhibition intentionally dynamic with people spot-lit, shadows projected; the audience as participants in the show.

Lee has the museum's own windows replicated as video projections on white walls. The real windows are often adjacent to the replica video windows. Both have their blinds drawn. Enigmatically, the text near one 'replica' window says, in part: "Everything is fragmented, but not broken. It's beautiful."

There are magical tricks too, openly presented for the audience to spot. A painting of a hand and index-finger pointing downwards is replicated in a video in another room. If a viewer watches this video long enough, a figure appears and walks towards the 'painting' to adjust its position. In another segment of Lee's exhibition, a green coffee mug has the words "Full of joy" printed on it and is placed on an upstairs window-sill. A nearby video includes the words, "But my arm is not long enough to reach the cup." The cup, however, is available for sale in the museum shop. Also, one of Lee Kit's archetypal painted cloths is pinned to a wall, at frequent intervals a small child in a bright red T-shirt appears projected on the cloth – the text below simply says "hello". Finally, the real blinds covering the real windows are made from a gauze-like fabric, in places this same gauze is projected giving some paintings and some walls, a shadowy gauze-like appearance.






The exhibition is a swirl of text, painting, light, shadow, architecture, and glimpses of the outdoor gardens. The audience is an unconscious participant, and the initial crucial welcome (the child's "hello") sets the exhibition's friendly, embracing tone. The audience, I observed, were intrigued, possibly mesmerized in some cases, and fascinated, by the exhibition's touching and enigmatic layers of installation and possible meaning. It is an exhibition that will be fondly remembered.

Lee Kit, 'We used to be more sensitive', Hara Museum of Contemporary Art, 16/9/2018 – 24/12/2018

www.haramuseum.or.jp



This review was originally published in Artomity magazine, December 2018
原文刊於Artomity,2018年12月