藝評
---
Cardiopulmonary Resuscitation (CPR) Conceptual Art Exhibition
約翰百德 (John BATTEN)
at 6:38pm on 30th June 2009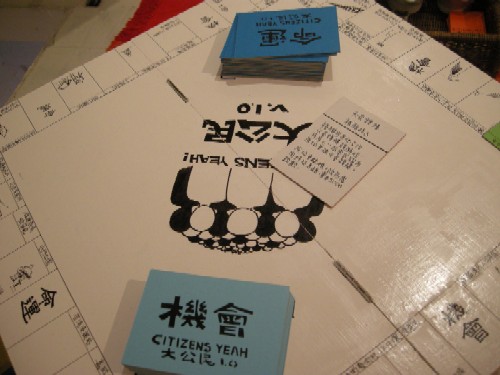 The current economic recession has seen a variety of government measures to alleviate the financial pain that many are experiencing and in this group exhibition, C&G Artpartment provides an artistic equivalent: come, look, feel better!
Katsushika Hokusai's famous 'The Wave off Kanagawa' appears as an image in Lo Chi Kit's interactive installation using rolled advertising banners commonly found on Hong Kong's streets. Exhibition visitors can raise and lower Hokusai's wave to mimic the dizzy bubble of last year's Hang Seng Index and replicate their own 'financial tsunami'.
Well-known performance artist, Wen Yau confesses that she failed her first aid certificate test when she was a young member of the Hong Kong Red Cross. Likewise, although now an artist, she has never completed any formal art training. She cleverly replicates a mirage of artistic aptitude, authenticity and the ambience of being part of a respected organization by commissioning a copy artist from Shenzhen's Dafen Artist Village to carefully paint reproductions of her Red Cross certificates and class photographs.
Layered with allusion, Wen Yau replicates the formal display of practice qualifications often seen in a financial institution's foyer, but the first aid/good Samaritan/competence scenario is tempered by our knowledge that many of the financial fraudsters that this recession has exposed were similarly respected.
In a gesture of artistic camaraderie, conceptual artist Luke Ching gave Law Man Lok one of his Timothy Fok dolls seen recently at the Hong Kong Museum of Art. In his video installation, Law interviews a mute Fok, the functional constituency legislator for culture, about an unlikely ink painting he has just completed, using a brick dipped in ink.
Continuing the exhibition's air of whimsy, Clara Cheung's alternative version of the game of Monopoly (see image) rewards players who make our environment better and life more socially meaningful rather than those who just accumulate property and capital.
Exhibition: 《Cardiopulmonary Resuscitation (CPR) Conceptual Art Exhibition》
(《心肺復甦法》觀念藝術展覽)
Date: 11.5 – 29.6.2009
Venue: C&G Artpartment
Enquiries: 852 23909332
Website: http://www.candg-artpartment.com/