藝評
---
Looking Beyond China
約翰百德 (John BATTEN)
at 12:45pm on 16th July 2011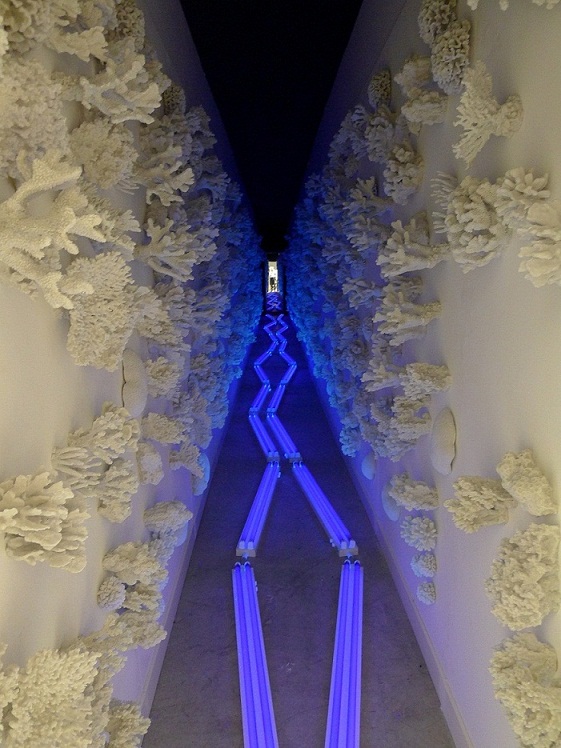 Captions:

1. Angki Purbandono: TV Lovers, 234 piece light box installation, 2011 at HK Art11. Courtesy of Vivi Yip Art Room, Jakarta.

2. 60th National Day, Tiananmen Square 03 (2009) by Vincent Yu. Archival digital pigment print, 145cm x 47cm. Courtesy of The Upper Station, Hong Kong.

3. Nadim Abbas: Marine Lover-A Hermatypic Romance, mixed media installation, 2011 at HK Art11. Courtesy of artist. (Photo: John Batten)

4. Alwin Reamillo: Ang Balutviand, installation view at Tin-Aw Gallery, Manila, Philippines, 2011.


(原文以英文發表,提出香港的藝術發展,應以當代亞洲藝術為重心,與鄰近地區的藝術文化與歷史聯繫。)


Hong Kong has just concluded its Spring art auctions with continuing record prices due to the city's central location in Asia, zero tax on the import and export of art, its free-port status, excellent logistics and mainland interest in acquiring Chinese art. For all these reasons and astute market positioning, the Hong Kong International Art Fair has now evolved to be the region's biggest art fair after its quiet debut in 2008 and the fanfare of Shanghai's own ShContemporary failed to deliver in 2009.

The fair now boasts the participation of many leading American and European galleries and the displayed art offers an overview of the market and the showcasing of the world's 'name' and prominent contemporary artists. The fair also provides separate sections for Asian galleries and emerging galleries and their artists.

However, as I have long argued, the expectations of an art fair, which is the commercial equivalent of a trade show for art, needs to be kept in perspective. Although providing a venue for the display of contemporary art, an art fair does not (nor should it be expected to) offer the education and scholarship of a museum. Despite Hong Kong's great commercial maturity the city still lacks a contemporary art museum to complement its small but vibrant local art scene and be a further draw for the many visitors who already come to the city for arts-related reasons.

Western Kowloon's M+ and the proposed art facilities in the heritage Central Police Station may eventually offer such a contemporary art museum. But, in what form and focus these facilities take is still undecided.

A recent trip to Manila to accompany the chairman of the Australian National Gallery on his first visit to the Philippines was – again - a reminder of the depth of excellent contemporary art being done by all our near Asian neighbours.

Hong Kong's political, social and cultural energy is generally directed towards the mainland, however a new museum that did focus on contemporary Asian art would be a bold statement about the central position that Hong Kong holds in the region and to rebalance cultural links and historic relationships that have been for too long neglected.


This article was originally published in Perspective, July 2011.