藝評
---
Koon Wai Bong's Bamboo Changshan at the Museum of East Asian Art in Bath, England
彭綺雲
at 11:52am on 18th March 2013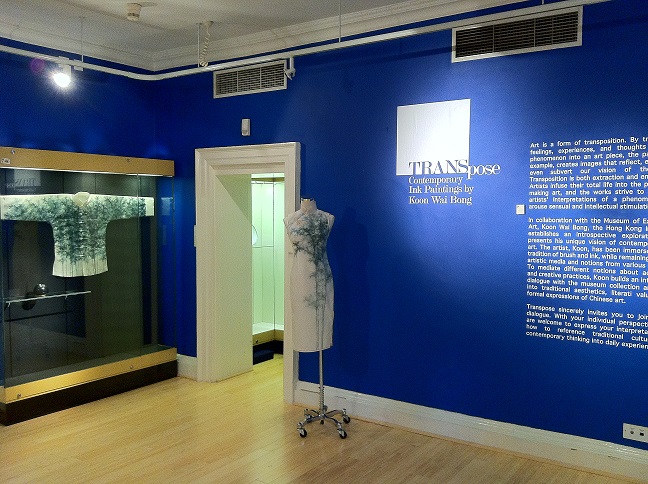 Captions:
1.& 2. Exhibition installation view. Photos: Koon Wai Bong, 2013.

(原文以英文發表,評論英國巴斯東亞藝術博物館之《TRANSpose: Contemporary Ink Paintings by Koon Wai Bong》展。)
In his introduction to Museums Without Walls, the French writer André Malraux proposed that the, "reason that the art museum made its appearance in Asia so belatedly (and even then, only under European influence and patronage) is that… artistic contemplation and the picture gallery are incompatible. In China, the full enjoyment of works of art necessarily involves ownership,... above all it demanded their isolation.... The practice of confronting works of art with other works of art [in a museum] is an intellectual activity, and diametrically opposed to the mood of relaxation which alone makes contemplation possible." (1)
Artist Koon Wai Bong's collaboration with the Museum of East Asian Art presents him as a translator of selected artefacts in the museum's collection, adopting an approach common in contemporary museum practice, significantly often in museums known for the specificity of their permanent collections. (2)
This fictive encounter between artefact and art collapses past and present, and forces a suspension of the museum's historical objectivity, its 'way of seeing', in favour of a formal or thematic relativism. In the juxtaposition with the work of a living artist, the permanent collections are introduced to a more contemporary audience. Temporarily suspended from the demands of historical certainty, these interventions are also informed by a modernist idea of a world art in which the value of artefacts is determined not by hierarchies of established scholarship, nor by individual histories or geographies, but rather by aesthetic or artistic qualities alone. (3)
Koon is an artist whose oeuvre is self-conscious in locating its "Chineseness", both in his materials – brush and ink (or colour) – known as bimo, which should be understood not simply as materials, but as a codified system of techniques, styles, motifs and compositions, which the artist considers to be the "cultural capital" of literati artists. (4) His version of "Chineseness" is not one asserted in opposition to non-Chineseness that that one might anticipate at a museum of East Asian art located in the west of England. Koon's "Chineseness" is one in which his work is readily identifiable as Chinese in its lineage to a literati tradition of the past. He is defending the contemporaneity of his work against a contemporary art world in which such essentialism of the art form is critically unfashionable.
A collaboration such as this acts to mediate work that might otherwise be inaccessible to contemporary audiences lacking an entry point to its codified system. The tangibility that objects offer allows Koon's work to become tangible by association.
Koon Wai Bong's Bamboo Changshan is heavily steeped in the tradition of literati painting in the accomplishments of its bimo technique. The dense layers of his chosen subject– bamboo– mirroring this motif's density of meaning. (5) Koon's young bamboo shoots cover almost the whole surface of the white silk jacket with stems that appear to move as if influenced by a passing breeze. Bamboo is a metaphor for the qualities of an unadulterated gentleman, the Confucian junzi, whose moral integrity, steadfastness, and loyalty need not be questioned. Bamboo also counts among the 'three friends of winter', with pine and plum, admired for their hardy and evergreen nature. It is also among bamboo that a legendary group of seven Daoist scholar-officials sought refuge from Confucian persecution during the Three Kingdoms period (220–280). Secluded from a world that they disdained, the somewhat magically endowed 'sages' discussed politics and philosophy, composed poetry, played the guqin, and drank copiously. (6)
The style of Koon's bamboo refers to another of his paintings, titled Bamboo, also painted on silk but mounted onto individual stretchers to break up the rhythm of what would have been a single continuous image into one that is interrupted. (7) Inspired by the Yuan dynasty handscroll, Bamboo Groves in Mist and Rain (1308) by Guan Daosheng (1262–1319), Koon is subverting appearances. Traditionally silk is made by women, and the artist Guan Daosheng, whose bamboo he so admires, was the wife of Zhao Mengfu (1254–1322). It is her adherence to the refined and delicate style of the time rather than that of her husband that Koon chooses to emulate in making this jacket. (8)
The museum's black-glazed 'oil spot' jar epitomises the simple, unaffected forms of the Song dynasty (960–1279), a time of immense importance in the development of Chinese ceramics that has come to characterise a high Chinese aesthetic. Unlike Koon's Bamboo Changshan, which was created as a work of art, this jar was made with a function in mind– a utilitarian object whose artisan makes his presence known in every aspect of its creation, yet is unknown to us today and was probably equally anonymous in his own time.
The visual impact of the jar is one of raw materiality. It is completely glazed, except for the area around its foot, wiped clean by the potter's hand before firing to avert fusion with the bottom of the saggar. (9) Small black-glazed bowls were developed for a vibrant tea-drinking culture during the Song period; whipped tea was shown to best advantage against a black surface. The 'hare's fur' or rarer 'oil spot' effects of Jian kilns are due to iridescent iron oxide spots appearing on the surface of an iron saturated glaze as a vessel cools after firing. (10)
Susan Vogel, writing on the groundbreaking exhibition, "ART/Artifact" at the Center for African Art in New York in 1988, described how the, "exhibition approached the question of perception through individual objects and through installation styles. Recognizing that the physical setting of an object is part of what makes it identifiable as art, the installation showed art objects and nonart objects in such a way as to raise the question in the viewer's mind and to make the trickery of the installation evident." (11) Cued by the museum setting, the viewer sees this jar not as 'jar' but as 'art'. Koon is inspired less by simplicity of the jar's shape, or the alchemy of its glaze than by a link to the Song dynasty Chinese culture for which this jar was made.
Koon's intervention at the Museum of East Asian Art makes time travellers of us all. Rather than bringing the jar – a cypher for the permanent collection – into the present, the juxtaposition takes us on a journey to a place and time where we, elegantly attired contemplate the simple perfection of a temmoku jar while sipping tea and having our senses soothed by the gentle rustle of bamboo stirring around us in our seclusion.
Yet, the uncomfortable question that Koon poses is, "does acting contemporary make you contemporary?"

Footnotes:
(1) André Malraux, Museum Without Walls , London, Secker & Warburg, 1967 (originally published in French as Le Musée imaginaire, 1947).
(2) A recent example is the Peabody Essex Museum in Salem, Massachusetts' Freeport series of collaborations with contemporary artists launched in 2010. Known for its world class holdings of Chinese export art, and the 18th century Chinese Yin Yu Tang house, the multimedia artist Charles Sandison was the first in the series.
(3) See Hans Belting, 'Contemporary art as global art: a critical estimate', in Hans Belting and Andrea Buddensieg (eds), The Global Art World: Audiences, Markets, and Museums, Ostfildern: Hate Cantz, 2009, pp. 38–73.
(4) See Koon Wai Bong, "Reworking the Classics: Revitalization of Guohua, Traditional Chinese Painting, in Search of Contemporaneity", in Reworking the Classics, Academy of Visual Arts, Hong Kong Baptist University, 2010, pp.37–110.
(5) See Koon Wai Bong, ibid, pp.94–95, see also similar works in this series, Cheongsam (2010), and Chinese Tunic Suit (2010), illustrated in plates 25 and 26.
(6) See for example Audrey Spiro, Contemplating the Ancients: aesthetic and social issues in early Chinese portraiture, Berkeley, University of California Press, 1990.
(7) See Koon Wai Bong, ibid, p.91; pp. 326–327.
(8) Thanks to Dr Roz Hammers, Associate Professor in the Department of Fine Arts, School of Humanities, HKU for alerting me to this.
(9) Clay containers used during the firing process to allow vessels to be stacked in the kiln, saggars also protect them from kiln debris and fluctuations in temperature and conditions during long firings.
(10) For more information on Jian ware glazes, see Nigel Wood, Chinese Glazes, London, A & C Black, 1999, pp.147–149.
(11) Susan Vogel, "Always True to the Object, in Our Fashion", in Ivan Karp and Steven D. Lavine, eds., Exhibiting Cultures: The Poetics and Politics of Museum Display, Smithsonian Institution, 1991, p.195.


Exhibition: TRANSpose - Contemporary Ink Paintings by Koon Wai Bong
Date: 26.1.2013 – 30.6.2013
Venue: Museum of East Asian Art, Bath, UK


This essay is adapted from 'Stippling in Lushly Green (Male Changshan)', in TING Wing Yan, Vivian (ed), TRANSpose: Contemporary Ink Paintings by Koon Wai Bong, Museum of East Asian Art, and Asia One Books, 2013, with the kind permission of the publishers and editor.