藝評
---
Industrial Buildings for ALL!
約翰百德 (John BATTEN)
at 10:49am on 18th March 2013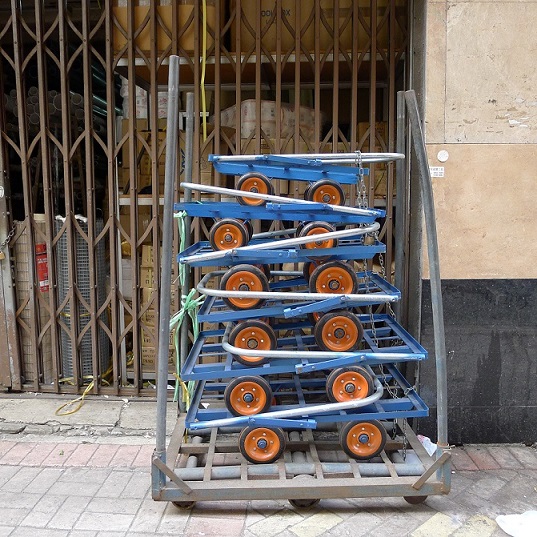 Captions:
1. Industrial areas will dramatically change over the next five years due to government land use policies - this will affect all users of lower-cost industrial spaces - including artists, however some artists will receive government subsidised support - is this fair?

2. The industrial area of Kwun Tong is being rebranded as Kowloon East Business District and will see trading businesses forced out.

3. Taller commercial office blocks are replacing older industrial buildings in Wong Chuk Hang.
(中文翻譯請往下看 Please scroll down to read the Chinese translation.)
Government policies towards Hong Kong's industrial-use buildings are wrong. These policies began slowly years earlier when some purely industrial areas were re-zoned to allow commercial and mixed-uses. Since announcing relaxed regulations to convert industrial buildings, often unfairly described as "older" and "empty", into "transitional residential accommodation" entire districts and buildings have been earmarked for changes in their land use – once town planning regulations are amended over the next twelve months.
Some areas, such as Wong Chuk Hang, near Aberdeen, and San Po Kong near the former Kai Tak Airport, have already seen a mixture of commercial office and hotel developments alongside industrial buildings. These districts now have a problematic mixture of tourist buses and heavy container trucks using the same roads and services. This is one issue, but more serious is a distortion in economic outcomes.
There is a squeezing of legitimate businesses requiring lower cost accommodation. These businesses provide vital work and services and, unlike service-based businesses in offices, operate on low profit margins and need low-cost space.
Logistics, engineering, food processing, transport services, printing, building and trades services all require low-cost space to do business. Mundane it may be, but vital storage and warehousing and assembly-work all need room for products waiting to be sold. Where is food kept? Furniture stored? Retail clothing warehoused? A product breaks down or malfunctions – where is it repaired? Where are gas bottles kept? Pharmaceuticals climatically stored? Imported wine safely laid for future drinking? Where are clothes dry-cleaned and industrial laundering done? Where are daily newspapers printed or large technical support and computer servers to send their electronic equivalent safely housed?
There is the rhetorical argument that such businesses can relocate to the mainland. They could, but likewise, do we build on beautiful country parks because it is vacant land? Or, as Hong Kong residents do we ourselves relocate because the mainland is cheaper? Does Hong Kong's economy only comprise financial services and tourism?
In the Chief Executive's 2013 policy address, he outlined – with no hint of irony - plans to offer artists subsidized rental in a Wong Chuk Hang industrial building. Artists also need low-cost accommodation for studios in which to work, but should they be government supported, whereas a car repair shop must endure the vicissitudes of higher rents because our stock of suitable low-cost industrial accommodation is decreasing due to shortsighted government land policies?
In the end, everyone will suffer: the public will face cost increases due to higher rents because of a squeezing in supply of appropriate industrial accommodation and reasonably priced spaces to anything dirty, manual, engineering, artistic or process-related will just not be available. For anyone.


A version of this article was published in Perspective architectural magazine, March 2013.
短視失「策」
政府改劃香港工業大廈用途的政策,衍生出一連串新問題


政府要改劃本地工業大廈用途的政策是錯的。隨著一些傳統工業區改劃為容許商業及綜合用途發展,新工廈政策近年慢慢成型。坊間普遍認為工廈「殘舊」又「閒置」,但其實是種不公平的評價;而隨著政府宣布放寬政策,讓工廈改作「過渡性住房」用途,許多工業區與工廈都等著改變土地用途。只要接下來的一兩年修訂好城規條例,肯定立刻推行。
在一些工業區,例如近香港仔的黃竹坑和前啟德機場附近的新蒲崗,已經可以見到工廈之中夾雜著商廈和酒店,因而使旅遊巴和大型貨櫃車共用馬路和配套設施,造成混亂。這類問題只屬冰山一角,更嚴重的是整體經濟情況的扭曲。
事實上,有許多正當的小行業需要成本低的生存空間。這些行業的工種和所提供的服務對香港都是不可或缺的,而跟在辦公室營運的服務性行業不同,它們的利潤微薄,很需要低成本的廉租地方。
物流、工程、食物加工、運輸服務、印刷、建造業及貿易行都需要租金低的地方。聽來老套,但貨品上架發售前,無論是存貨還是組裝都需要地方。食品貯存在哪?傢具存貨又如何?零售時裝的貨倉?故障壞掉的貨品在哪裡維修?燃氣罐在哪裡存放?要因應氣候貯存的藥物要放在哪裡?進口酒類在飲用前要安全存放在哪?乾洗衣物以至工業洗熨又是在哪裡進行?我們每天看的報紙是在哪裡印刷的?傳送電子訊息的電腦伺服器和相關技術支援儀器又可以安全存放在哪裡?
有人會反駁這些行業可以北移到內地。是的,行業可以,但我們會否因為郊野公園是閒置土地就在如斯美麗的地方上動土?又或者,身為香港居民的我們會否因為內地便宜就舉家北上?香港的經濟真的只有金融服務與旅遊業嗎?
本文無意嘲諷,但行政長官在2013年的施政報告裡,指出已推行計劃資助藝術家租用黃竹坑某座工廈;藝術家誠然需要租金便宜的工作室,但為何只有他們才獲得政府的資助,而經營維修車房的就要為政府短視的土地政策付出代價、在廉價工廈租盤因而短缺的情況下無奈捱貴租?


原文刊於《Perspective》2013年3月