藝評
---
Dustin Shum - Blocks
約翰百德 (John BATTEN)
at 1:32pm on 16th July 2011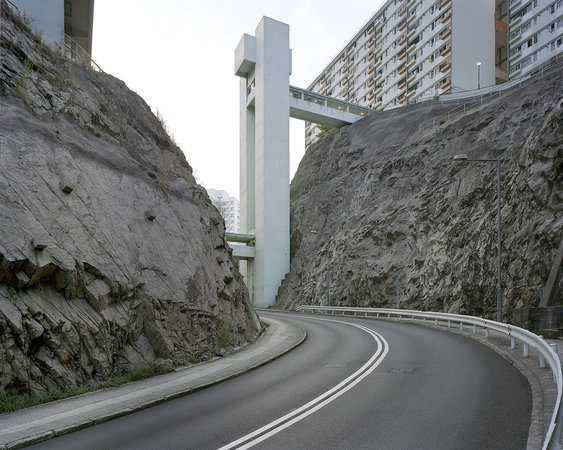 Captions:

1. Nam Shan Estate, 9/2010
2. Shun On Estate, 10/2009
3. Cho You Chuen, 4/2011
4. Ping Shek Estate, 5/2009


(原文以英文發表,評論《某座 - 岑允逸個展》。)


Dustin Shum's "Blocks" exhibition was originally titled as the "30th Anniversary of My Public Housing Tenancy". This prosaic title would be suitable if Shum had taken a personal, expressionistic or photojournalistic approach to depict the lives of people living in Hong Kong's public housing estates.

But the spare aesthetics of these carefully composed medium-format, enlarged colour photographs begged a tighter moniker. "Blocks" concisely introduces a set of landscape photographs highlighting the architecture and individual design quirks seen in these estates.

Despite being a photojournalist for ten years, this exhibition shows that Shum has, like so many photographers, been inspired by the legacy of the influential "New Topographics" exhibition of 1975 held at George Eastman House in the USA that included such exemplary photographers as Stephen Shore and Robert Adams.

Taking a lead from these photographers, Shum similarly depicts estate landscapes without the obvious presence of people, but 'peopled' by physical, man-altered and architectural interventions that are, at times, varied, surprising, uncanny and just plain weird. "New Topographics" landscape aesthetics has been so pervasive in contemporary photography that the original exhibition has been, for the first time, re-constituted and is currently on exhibition in Europe.

Shum's personal experience of living on Shun On Estate for the last thirty years allows him a perceptive analysis of the changes he has witnessed. The 1960s egalitarian spirit of "housing for all" has shifted to now mean that "public housing" has, as Shum explains, "become a phrase that stands for poverty, aged (people), obsolete (housing stock) and families relying on social security assistance."

With keen observation, Shum considers the new and renovated designs of many public estates that use a cute kindergarten-style design palette to echo this welfare state atmosphere. In Nam Shan Estate . 9/2010 (see image) the newly renovated estate is painted in jazzy shades of green with matching seating, safety-rubber ground paving inserted with bunny-rabbit motifs and a pragmatic but banal courtyard designed for efficient cleaning rather than enjoyable and unsupervised relaxation.

Ping Shek Estate near Choi Hung was built in the late 1960s and the original bland open concrete spaces between buildings are separated by sloped terraces newly painted in gaudy sea-bright blue with contrasting yellow seating and painted red concrete planters safely hold back the well-pruned foliage.

The grafting of housing blocks alongside and atop mountain slopes is highlighted in Shum's photographs. A service elevator housed in a tall grey tower in Cho Yuen Tsuen incongruously sits alongside a blasted rock-face. This barren landscape, devoid of obvious habitation, could be viewed as a scene from a sci-fi movie, but there is no mystery: it is simple, utilitarian architecture.

Shum believes the marginalization of Hong Kong's public housing estates and tenants reflects a shifting psyche. The city's capitalist flair had supported the myth, now no longer trusted, that living on an estate meant a person grew up "with a tough and frugal childhood, unyielding struggles in youth," to eventually achieve "success, fame and wealth in the end."


Exhibition: Blocks by Dustin Shum
Date: 18.6.2011 – 30.7.2011
Venue: The Upper Station
Enquiries: 852 3486 2474
Website: http://theupperstation.com/html/current_ex.html


A version of this review was published in the South China Morning Post on 17 July 2011.