藝評
---
Book Review of Claire Roberts' "Friendship in Art: Fou Lei and Huang Binhong"
貝卉玲 (Hilary BINKS)
at 6:44pm on 11th April 2011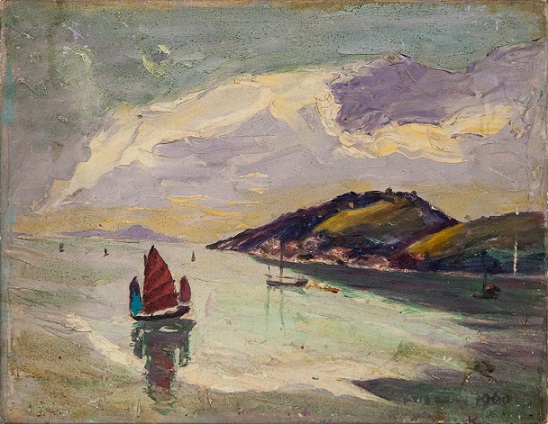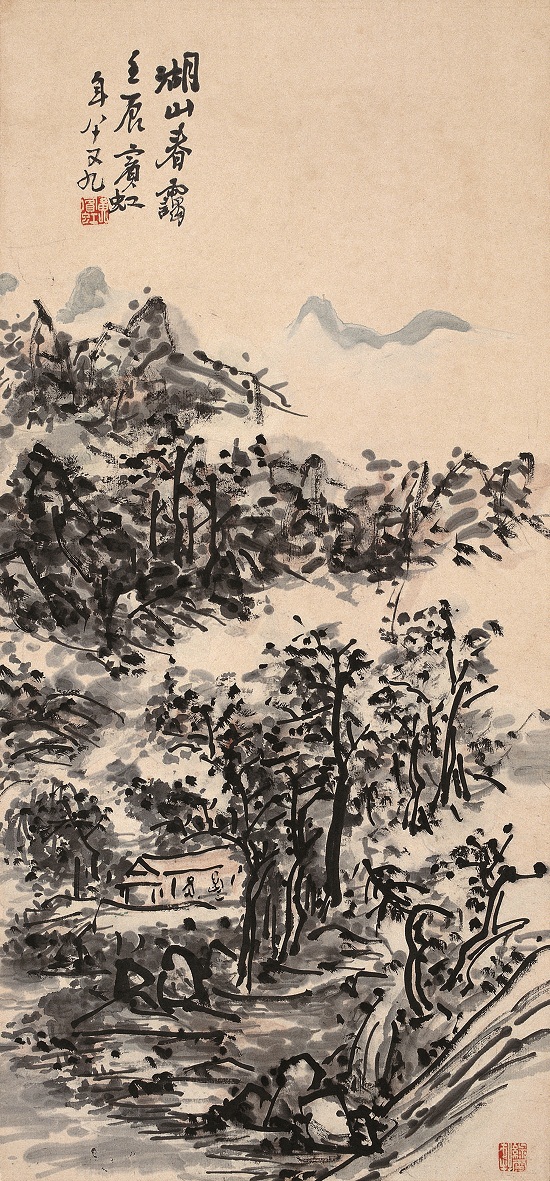 Captions:

1. Huang Binhong, Landscape, album leaf, ink and colour on paper, no date. 25 x 18cm. Courtesy of the Fou Family Trust.

2. Huang Binhong in Beiping, late 1930s. Collection of the Zhejiang Provincial Museum, Hangzhou.

3. Fou Lei, Shanghai Art College, 1931. Collection of the Shanghai Municipal Archives.

4. Huang Binhong, Landscape, album leaf, ink on paper, 1946. 25 x 17cm. Courtesy of the Fou Family Trust.

5. Huang Binhong, Landscape, hanging scroll, ink and colour on paper, 1952. 35 x 75cm. Courtesy of the Fou Family Trust.

(原文以英文發表,評論有關一書。)

Chinese artists of the 20th century can be broadly divided into those who travelled abroad and tried to absorb Western art theories and methods into their art; and traditionalists who preferred to work within age-old parameters. Whereas painters such as Xu Beihong (1895-1953), Lin Fengmian (1900-1991) and Wu Guangzhong (1919-2010) sought new ideas from overseas, others like Qi Baishi (1863-1957) and Huang Binhong (1865-1955) insisted on the creative transformation of the past tradition to revitalize the spirit of Chinese painting.

In this scholarly yet eminently readable book, Claire Roberts focuses on a special friendship between an artist and a scholar who helped shape Chinese culture in the 20th century: the revered traditional painter Huang Binhong and the cosmopolitan critic and translator Fou Lei (1908-1955). In 1943, Fou Lei, a young Shanghainese intellectual, wrote to the 80-year-old artist Huang Binhong, a man more than 40 years his senior, then living in Japanese-occupied Beijing. This marked the beginning of an intense artistic conversation which lasted till Huang Binhong's death in 1955.

The alliance seems at first unlikely. Huang was an elderly, respected but little understood scholar-painter, a living link to the Chinese past. Fou Lei, in contrast, was a confident young idealist who had studied in Paris, a translator of French literature, well versed in the ways of both East and West. Yet Fou Lei was fascinated by Huang's erudition and the way he transformed Chinese ink painting. He recognized that Huang's traditionalism was not stubborn resistance, but a conviction that tradition could be a dynamic force in the modern world. Fou Lei saw that Huang's fluent, energy-filled paintings, with their deep Chinese cultural and intellectual roots, could also communicate on an emotional level which transcended national boundaries.

Claire Roberts' background as a curator and research scholar in Chinese art history and culture, and a practitioner of Chinese ink painting, enables her to explore their dialogue with insight and sympathy. She also succeeds in placing their relationship against the turbulent backdrop of Chinese history to which it is inextricably linked. The book comprises historic narrative, essays on art by Fou Lei including his impassioned "I will say it again: Where are we headed? … to the Depths!" of 1933, and rare archival letters between the two men.

She recounts how before the Cultural Revolution, Fou Lei was known in China as an outstanding translator of French classics, including the works of Romain Rolland and Balzac. He was also keenly interested in music and art. Born in 1908 into a well-to-do family in Nanhui, near Shanghai, in 1927 he fulfilled his dream to travel to France where he studied French literature and art theory at the Université de Paris, frequenting the Louvre with artist friends Liu Kang (1911-2004) and Liu Haisu (1896-1994) and travelling to Switzerland, Belgium and Italy to visit museums and sites. On his return to Shanghai in 1931, Fou Lei saw some of Huang Binhong's landscapes and found them fresh and exciting. Later he said, "My love-affair with Chinese painting began when I was 20 studying Western art at the Louvre in Paris."

Fou Lei taught art history and French at Shanghai Art College, joining a distinguished staff which included Zhang Daqian, Pan Tianshou, and Huang Binhong. His course on European art history placed Leonardo da Vinci, Michelangelo and Raphael in a broader intellectual and social context and provided students with an analysis of iconic works. He edited magazines, published essays and translations. He warned artists against unthinkingly adopting Western styles, urging them to seek an "authenticity of sentiment" appropriate for Chinese artists of their time. In 1933 he decided to devote himself to writing and translation, in 1936 moving with his family to a house in the French Concession in Shanghai.

Huang Binhong's extraordinary painting career spanned some 80 years. Born the son of a merchant in Jinhua, Zhejiang province in 1865, he grew up in an environment of paintings and books, following the traditional practice of learning by copying old masters. He was groomed for the civil service examinations but these were abolished by the Qing government in 1905, so he moved to Shanghai, becoming a well-known artist, historian, writer and teacher. Like most of his friends, Huang was trained in Confucian thought, which held that there was a natural harmony linking man, nature and the cosmos. In 1928 he and friends founded the Shanghai School of National Painting to develop ink painting techniques. He travelled widely, gaining inspiration from nature, making plein air sketches that captured the essence of the landscape.

The letters between Huang and Fou Lei show an intellectual rapport that strengthened over the years. Huang would often send Fou Lei a painting with his letters as a mark of respect and affection. Fou Lei offered not only grateful thanks but delight in return. He talked of his love of art and found he shared Huang Binhong's views about the role of nature and a belief that the ultimate aim of art is the transmission of the spirit. He drew comparisons between Huang's painting and the French Impressionists, delighted at the possibility of consonance between modern Chinese and Western art. Though they met face to face on only three occasions, in Beijing in 1948 and in Shanghai and Huangzhou in 1954, through their letters they developed a friendship based on common interests such as art history, the modernization of Chinese painting and the future of Chinese culture.

In 1943, Fou Lei organized Huang Binhong's first solo exhibition in Shanghai to honour his 80th birthday, writing a catalogue essay in Socratic dialogue form, included in Roberts' book. Despite Huang's doubts – he felt out of step with the times – the exhibition was a success. Fou Lei became Huang's agent in Shanghai, also cultivating international contacts. Roberts describes in detail Huang's art at the height of his powers: despite age and failing eyesight, he explored the fluid properties of ink wash, drawing inspiration from landscape paintings of the Northern Song (960-1126).

In 1949, Huang Binhong moved to Huangzhou where he was appointed professor at the National Art College. Meanwhile Fou Lei immersed himself in translations. Both suffered terribly under the Communist regime: Huang was not allowed to teach, nor Fou Lei to publish. In 1955 Huang Binhong died discredited. Worn down by public criticism and persecution, Fou Lei and his wife hanged themselves in their house in Shanghai in 1966. A poignant photograph shows the room full of books, treasured paintings, objets d'art and family photos in which they died.

The last part of the book records efforts to rehabilitate both men and restore their property, particularly paintings, to their families. Huang Binhong has been the subject of major exhibitions; while Fou Lei's younger son has devoted 30 years to editing and publishing his writings. Claire Roberts' book, however, throws light on the untold and often moving story of two men who shunned the limelight, revelling in true cultural and intellectual exchange despite political challenges, in the strong belief that the highest role of art and literature was to express their feelings and those of their times.

Friendship in Art: Fou Lei and Huang Binhong
By Claire Roberts
Hong Kong University Press 2010
248pp.
Hardback ISBN 9789888028405

This review was first published in February 2011 in The Asian Art Newspaper, with whose kind permission it is reproduced.